As a business owner, you know that scheduling customers' appointments should be precise and spontaneous, which can take a lot of time and effort. To help make appointment scheduling simpler and more efficient for you, your staff and your customers, we're introducing you to a very powerful solution called Microsoft Bookings.
Microsoft Bookings is a new tool available in Office 365 for small businesses who provide services to customers on an appointment basis. Online booking is something that's common today across a number of industries in Saudi Arabia, whether that's booking a table at a restaurant, a doctor's visit, or even an appointment at your local hairdresser, among many other things…
Key Benefits of Microsoft Bookings
Easily schedule customers' appointments or simply let them do it.

If you're talking with a customer in-person or on the phone, you can quickly get to Microsoft Bookings, use the day "split view" to quickly see your schedule and create a new booking based on availability.
Your customers can schedule appointments from any device through a unique scheduling web page that Microsoft Bookings provides, allowing them to make an appointment / select the service they require, their desired date and time, and which of your staff member they wish to see – based on availability.
The web page looks great on both larger screens and mobile devices. It's easy to link to your scheduling page from an email that you send to customers or from your business's website or Facebook page.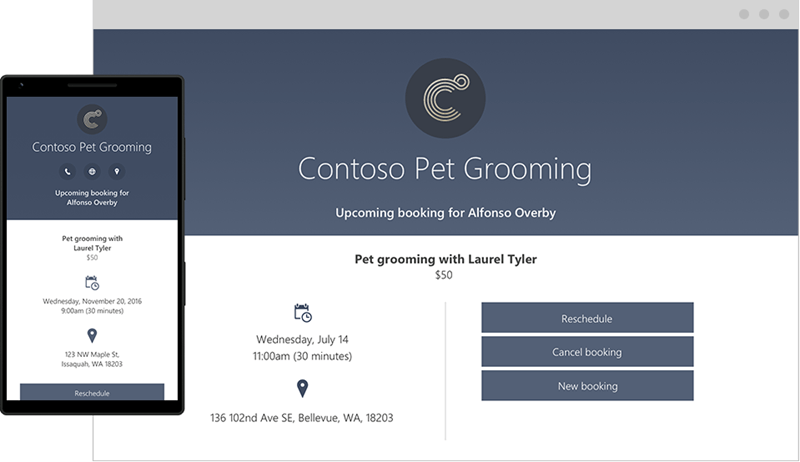 Grow Your Business By Connecting Bookings to Your Facebook Page!
Bookings can be embedded in your website and Facebook page as well, so that customers can book an appointment for any of your services from Facebook as well. As soon as Bookings is set up on your Facebook Page, your customers simply click the Book Now button and select the service and time that works for them. Their contact information is automatically filled in for them, and once they click Book, they're done.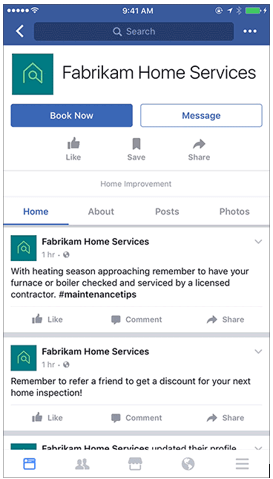 After your customer clicks Book Now, the same scheduling process—confirmation, notification, appointments, reminders, etc.—happens as if they were using your Microsoft Bookings web page.
Reduce missed appointments with confirmations and reminders
When a customer doesn't show up for an appointment, it can mean wasted time and money for you. To reduce no-shows, Bookings automatically sends your customer an email confirmation right after they book, with an option to quickly add the appointment to their calendar. And of course, you can set up a reminder email, which is sent based on how much notice you want to give before the appointment.
Make it easy for your customers to reschedule or cancel bookings
With Bookings, your customers can easily reschedule or cancel a booking they've made as the scheduling web page provides an area where they can pick a different day and time or cancel the appointment. Want to avoid last minute cancellations? No problem. You can control how much advance notice is required, whether it's one hour or one week.
Manage bookings and customer information from anywhere
Bookings will also manage other aspects to appointment management as it makes it super easy for you to collect and record customer preferences, manage staff lists and schedules, define services and pricing, set business hours, and customize how services and staff are scheduled.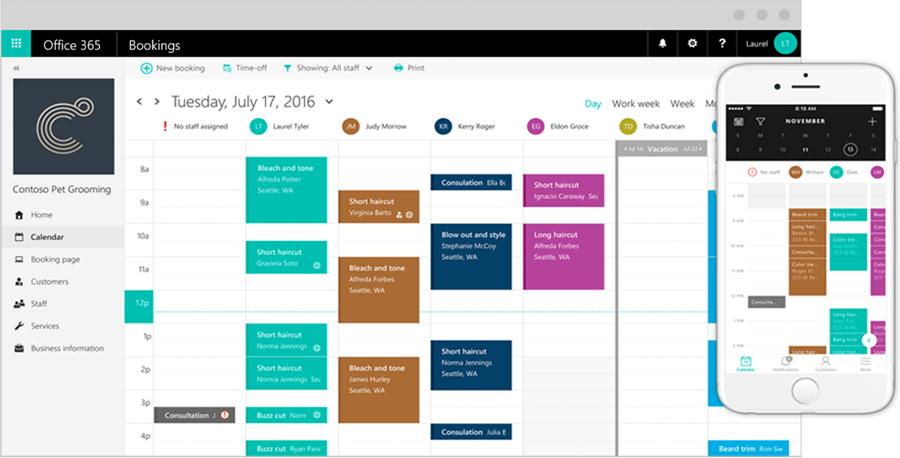 Ready to get started?
Request your FREE Office 365 TRIAL from Ctelecoms now and let us get you up and running with Microsoft Bookings, and plenty of other powerful tools for you to take productivity to the next level!