What is Cisco Jabber?
Cisco Jabber is a super-efficient unified communications application that gives people great opportunities to be more productive from anywhere, on any device. Jabber has a simple, user-friendly interface that allows you to find the right people, see if and how they are available, and collaborate in real time using your preferred method.
Powered by Cisco's Unified Communications technology, Jabber streamlines communications and enhances productivity by unifying presence and providing high-quality audio and video collaboration, screen sharing, instant messaging (IM), voice messaging, voice and video conferencing, and desktop sharing – all while ensuring a high level of security, clarity and reliability.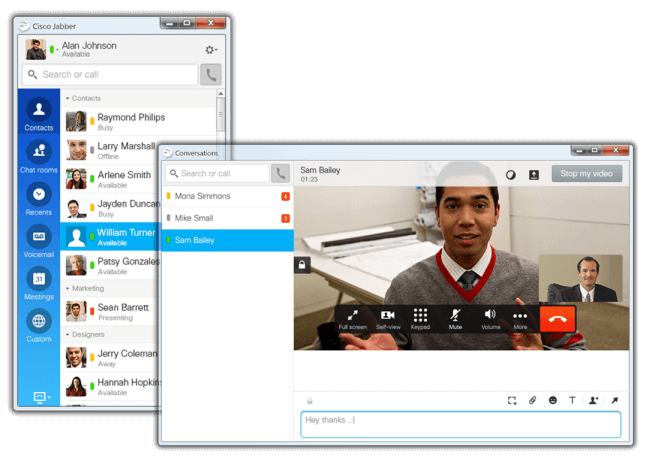 Check the availability of all your contacts at a glance, start a chat with an individual or group without any delay, and seamlessly start your internal and external communications across all your devices.

Similar to Skype for Business, Jabber offers excellent features without any hassle and allows you to start a chat with an individual or group without any delay. Jabber is also compatible with both internal and external communication, empowering users with:
Instant interaction with IM and Presence

Business-Class IP Voice and Video Telephony

A complete collaboration experience for your iPad

Communication From Microsoft Office

Mobile Collaboration-Anywhere on Any Device

Communication Within Web Applications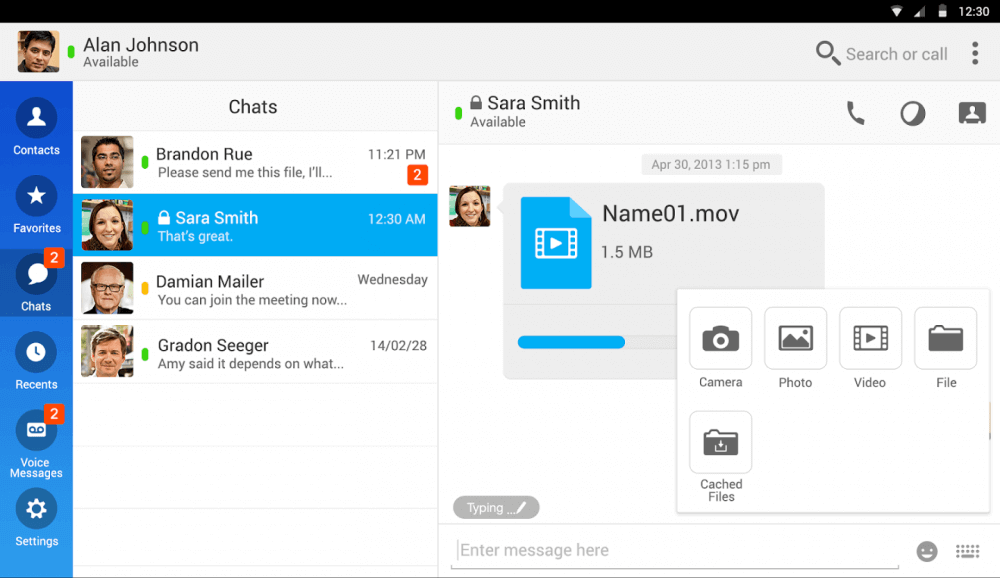 The Unified communication technology of Jabber delivers the same experience across all devices. Cisco Jabber is also integrated with Microsoft Office which allows you to see availability status of other users and contact them from within Microsoft Office.
The mobile experience is just as efficient as the desktop version delivering smooth video and voice calls in addition to IM chats on the go.

Key Benefits of Jabber
Jabber offers the following advantages:
High-quality video and audio calls.
Reduce Communication Delays with Presence and Contact Information.
Display customized availability and status messages.
Your status is updated automatically when you are in a Cisco WebEx meeting or sharing an application.
Look up contacts quickly with the predictive search query included in Jabber.
Set alerts to be notified when your contacts become available.
Point-to-point chat with co-workers inside your network, or supported federated business and personal contacts.
Group chat, which enables multiple colleagues to communicate and collaborate in a single discussion.
Multiple chat rooms, enabling persistent chat among distributed teams.
Personal instant messaging history for your reference.
Those are just some of the main benefits of Cisco Jabber. Click here if you would like to have a detailed description of Jaber's benefits and features.
Also, to learn more about the awesome unified communication services that Ctelecoms provides, make sure you check out our networking solutions.
Cteelcoms Team!