One of the top concerns that many businesses in Saudi Arabia have today is how to collaborate effectively. Let's say you need to communicate with a specific group about a specific project on a regular basis; you might need to return to emails to keep track of all that has been shared and done for that particular project. Your team members might, as well, face lots of difficulties when it comes to dealing with the huge number of data, discussions, and back and forth emails in order to keep up with the specific details of each task and quickly find every piece of information they need.

Microsoft Teams helps you easily include all the content, apps and features you and your team use every day so you can create, find and collaborate on every detail from one place – no more skipping back and forth between different windows. Teams can be easily customized to provide quick and instant access to frequently used documents and cloud services.
Now let's view and quick introduction about Microsoft Teams!
What does Teams do?
Within one window, users can call upon a variety of key Office 365 apps and tools to help them work more effectively, such as:
Calendars and meetings (Outlook)
Create, share, edit and find content (SharePoint, OneDrive and OneNote)
Call, meet and enjoy public and private conversations with your teams.(Skype), and more...
What's more, amazingly new apps are regularly added to Microsoft Teams. Take the two examples below:
Freehand by InVision
Freehand by InVision enables you to draw, plan and collaborate with present and remote users on an infinite whiteboard, right from Microsoft Teams.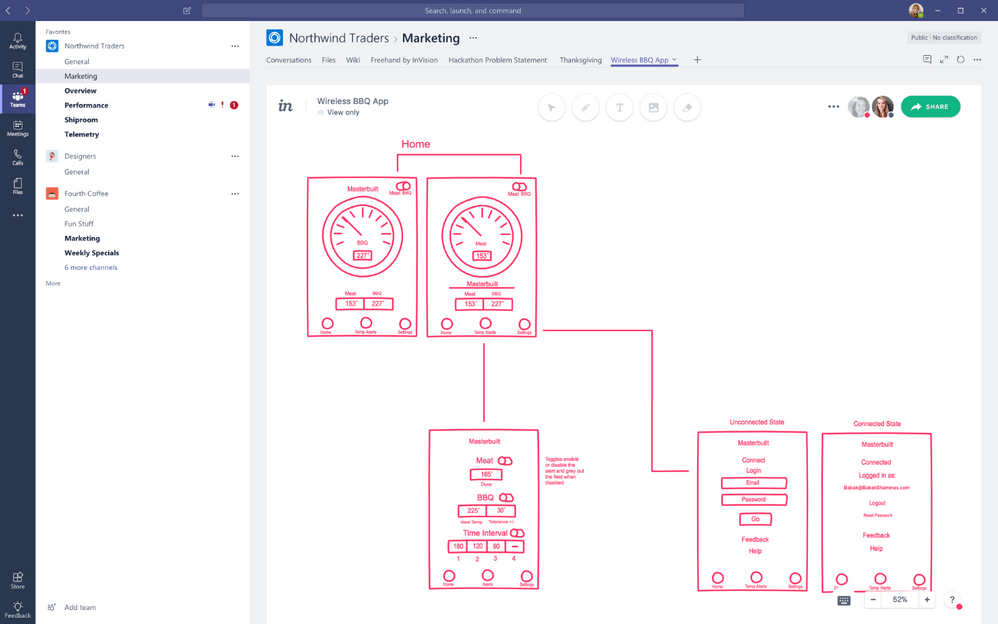 Microsoft Flow
Automate time-consuming and repetitive tasks by integrating your favorite apps and services with Microsoft Flow. This integrationcan helps you create and manage flows, review your received and sent approvals, and launch flows with the Flow Bot - right from within Teams.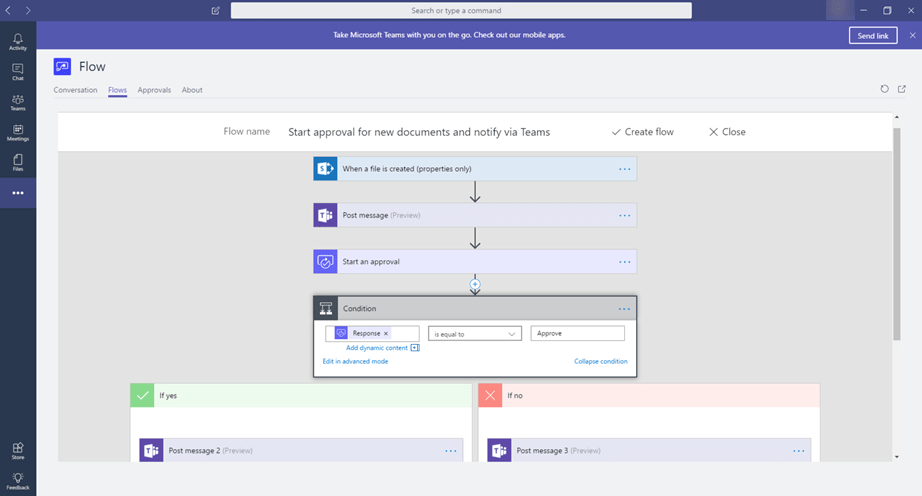 Key benefits of Microsoft Teams
One centralised hub where you can create teams and manage workflows more efficiently.
Deep Office 365 Integration that enables you to provide quick and instant access to the apps you use every day.
Customise Teams through APIs and bot frameworks
Enterprise security & compliance
Azure Active Directory integration
No extra cost to Office 365 users
Come together, right now, over Teams
Microsoft Teams enables global, remote, and dispersed teams with the ability to work together and share information via a common space. You can utilize cool features like document collaboration, one-on-one chat, team chat, and more.
Teams is fully integrated into all of Office 365's features, including SharePoint, Skype, OneDrive, Exchange, Excel, Word, PowerPoint and OneNote, as well as its enhanced use of AI and bot technology. What's more, Teams is designed with the same security and data protection standards as Office 365, i.e. two-factor authentication and single sign-on through Active Directory (Microsoft's Directory Server), meaning all of your work is encrypted and protected 24/7 and is GDPR compliant.
This short video will help you get started with Microsoft Teams, walking you through the basic, most common and popular features. Enjoy!
Feel free to contact us if you need any help getting started or using Microsoft Teams.