A key to being productive is leveraging existing content so you're not reinventing the wheel. Historically this has been challenging due to the exponential growth of digital content, particularly with image, video, and audio files. Until now, these rich file types have been cumbersome to manage and painful to sift through to find what you need, when you need it.
Images, Video & Audio files Will Become Fully Searchable
In its efforts to make OneDrive and SharePoint in Microsoft 365 the smartest place to store content, Microsoft has announced that by the end of 2018, automated transcription services will be natively available for video and audio files in OneDrive and SharePoint using the same AI technology available in Microsoft Stream. While viewing a video or listening to an audio file, a full transcript (improving both accessibility and search) will show directly in Microsoft's industry-leading viewer, which supports over 320 different file types, helping users utilize their personal video and audio assets, as well as collaborate with others to produce their best work.
Moreover, Microsoft is using native and on-device AI to recognize objects in images and text extraction tools to enable a refined search experience. With the help of automated transcriptions, users will also be able to conduct search across video and audio files.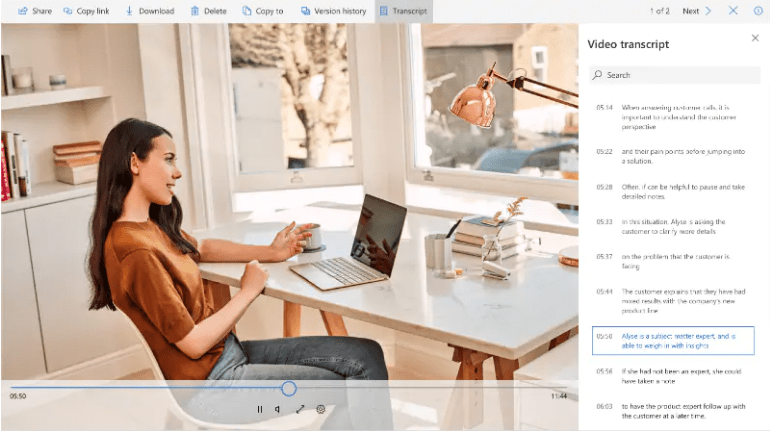 These incredible AI capabilities will help you determine where photos were taken, recognize objects, and extract text in photos!! The recognition and text extraction capabilities will allow users to search for audio files, videos or images as easily as they search for documents. For example, you could easily search a folder of scanned receipts for the receipt that mentions "Sushi."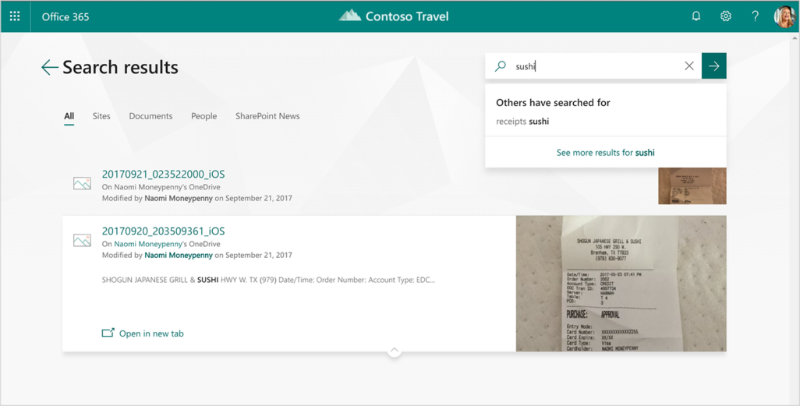 Starting off with AI-powered transcription features, native support for audio and video file transcription will roll out in OneDrive and SharePoint starting later this year. The technology will be based on the similar functionality available in Microsoft Stream. A transcript will be displayed alongside the playing video or audio file, allowing users to collect data in a meaningful manner.
"Once you're ready to make a video broadly available across the organization, you can upload and publish to Microsoft Stream. You'll continue to get transcription services plus other AI driven capabilities, including in-video face detection and automatic captions," said Omar Shahine, Partner Director of Program Management for OneDrive and SharePoint, in the company blog post. "Importantly, your audio and video content never leaves the Microsoft Cloud; it is not passed through potentially costly and insecure third-party services."
As you can see, by leveraging Microsoft's industry-leading investments in AI, OneDrive and SharePoint in Microsoft 365 have become the smartest place ever to store content. Order your free Microsoft 365 Trial from Ctelecoms!