By nature a structured cabling system is more neat and organized than the traditional point-to-point cabling systems. A structured cabling system does take planning, but after you have it set, you can rest easy.
The Importance of Structured Cabling Systems
Organizations that have various branches situated at different countries and cities of the world, or companies with numerous departments with huge number of employees, require a proper and efficient networking system that connects to all their computers, faxes, printers, scanners etc. If the networking system is not properly installed it can create havoc in the organization. But with well-organized structured cabling system, all this has become very simple. To make organization's networking system smooth and long-lasting for years, companies install unique, quality high-speed cables.
In this era of advanced technology, structured cabling is perhaps the best and most cost-effective solution to a great and efficient networking system.
Although much of business technology has gone wireless in recent years, structured cabling systems are still vital to your IT infrastructure. It's the basis for all communication at your company.
What is Structured Cabling?
Structured cabling is a system of cables, wires and other hardware that connects the infrastructure of your company's communication systems. This can include phones, video cameras, computers and data centers.
The Benefits of Structured Cabling
1. Future Proof Investment
By far one of the most significant benefits of a structured cabling system is the high bandwidth, which makes it a reliable infrastructure for supporting business growth. In today's competitive business world, having adaptable IT that is scalable and can respond quickly to industry changes is vital. In order to retain existing customers and continuously acquire new ones, businesses need a data centre that supports the quick and easy development and deployment of new services. With structured cabling, you can rest assured your network infrastructure won't become outdated and will support all emerging applications as your business grows.
1. Simplicity
There is a high level of simplicity and straightforwardness that comes with an organised cabling system. In a typical office environment, several different devices and IT equipment are being used at the same time, so running everything off one single system eliminates the complexity of having multiple wiring infrastructures in place. For example, if a problem occurs, it is far easier to identify the issue and solve it with structured network cabling. This means far less time and money lost in the long-term.
2. Cost Effective
Structured data cabling is a cost-effective solution to the smooth running of your business. The scalable and highly flexible network will provide a continuous flow of information and will be able to cope with the high demands placed on it. This in turn will boost productivity and drive business success. One simple cabling system also reduces power and maintenance costs, and eliminates the time and money spent on locating and rectifying any issues.
3. Easily Scalable
Since structured cabling systems package wires neatly in a way that's easy to manage, there's never an issue when adding new machines or technology to your IT environment.
If your business grows and you want to buy new computers or add video conferencing, it can be done without interrupting daily operations. It can also make office relocations go much smoother.
4. Reduced Risk of Downtime
Unorganized cabling systems with tangled wires often cause connectivity issues, which can result in network downtime and decreased productivity. Also there is a high risk of human error and mistakes being made with multiple, unorganised cabling structures, which can cause workflow disruptions and network downtime.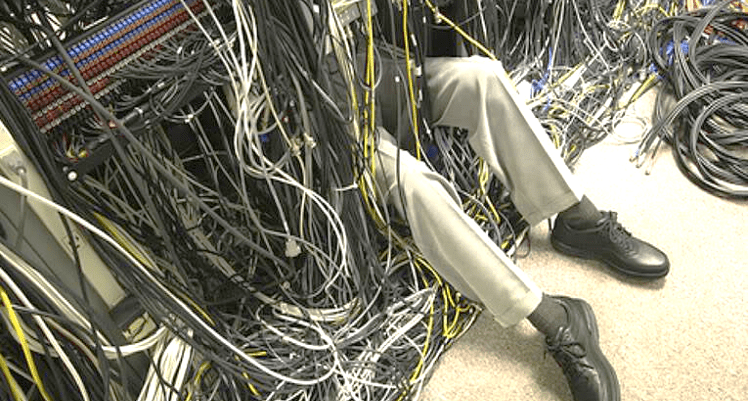 A well-planned cabling system means easier troubleshooting, so it's easier to identify and rectify faults quickly.
5. Solves Issues Quickly
Regardless of how well-organized your cabling is, issues may still occur. It's the nature of technology hardware to malfunction from time to time. However, a structured cabling system makes it less time-consuming to isolate the problem and solve it.
6. More Pleasing To The Eye
Think about a potential client coming to your office for a meeting and seeing a mess of tangled wires by every electronic device in your office. It's a bad look.
Preplanned cabling systems are often hidden from plain sight. If they are visible, they're neatly bundled and plugged into their respective machines. There's no mess.

7. Safety
In addition to being unsightly, messy cabling systems are downright unsafe. With unorganized cables, there's a higher chance of:
• Fires
• Electrical shocks
• Trips and falls
8. Better Return on Investment
Due to the optimal design of a structured network cabling system, there's less maintenance and replacement involved. Your company will also save money on wiring and cables in the long-run. Not to mention, companies that have flexible voice and data systems have an easier time communicating with clients.
9. Works with the Internet of Things
The Internet of Things (IoT) refers the connection of any device, whether it's a smartphone or a smart car, to the internet. IoT-enabled devices are becoming more and more common in the workplace. Structured cabling can be combined with the IoT to achieve benefits like the following:
• Automation of key business operations
• Energy management
• Cyber security
A professionally-designed cabling system is vital to the success of your company's IT environment. It's an investment that will more than pay itself back over time.
What About Ctelecoms Top-Class Structured Cabling Solutions in Saudi Arabia?
Ctelecoms offers high quality network cables that are durable and long-lasting for years. We offer unique and flexible structured cabling that are adjustable to frequent re-locations, any kind of changes in networking or infrastructure without any workflow disruptions. The efficient network system speeds up data transfer immensely and reduces costs to a large extent.
Whether it is a pre-occupied office or an empty place, whether a large construction site or a high-rise building; whatever the situation or wherever the location across the kingdom; the advance and superior cabling networking system is the only answer for speedy and continuous data flow. Feel free to talk to Ctelecoms any time you wish should you have any questions regarding our superior cabling solutions.