Ctelecoms have some great news for you all!
According to the blog post written by cooperative vice president for the OneDrive and SharePoint teams, Jeff Teper, Microsoft has introduced a NEW cloud-first, mobile-first vision, roadmap for SharePoint AND new features to help you motivate your coworkers and boost their productivity through easy content sharing! And it doesn't end here, Microsoft has also announced general availability of SharePoint Server 2016, also added with awesome new functionalities!
With over 200,000 companies employing SharePoint to achieve teamwork and empower productivity, it has become a program most workers rely on today. It integrates content management functionalities with decision-making and collaboration simplifying applications as well as some Office 365 features.
Guess what else?! …
The great news doesn't end here! Microsoft has some ultimately FANTASTIC news for all its fans, check out the video below to see what is yet in store for you!
Here are some of the capabilities you should be expecting soon from SharePoint:
Easy collaboration and content sharing on ANY device!
A variety of business applications right there on your desktop and your mobile phone with smart Intranet.
Improved security and privacy.
Now let's take a brief look at each point to get a better insight on what to look forwards to on SharePoint 2016!
Easy collaboration and content sharing on ANY device
Let all your documents find their way to you through smart capabilities deployed within your Office 365 so you'll no longer have to waste time searching for all your files! And even when you're on the go, you'll still be able to enjoy the same capability by syncing your Mobile, computer, MAC and offline documents. With these applications, communication and document sharing will never be easier, through the "single source of truth" feature, all your recipients will be able to work on the same shared file, hence enjoying seamless collaboration between you and your employees.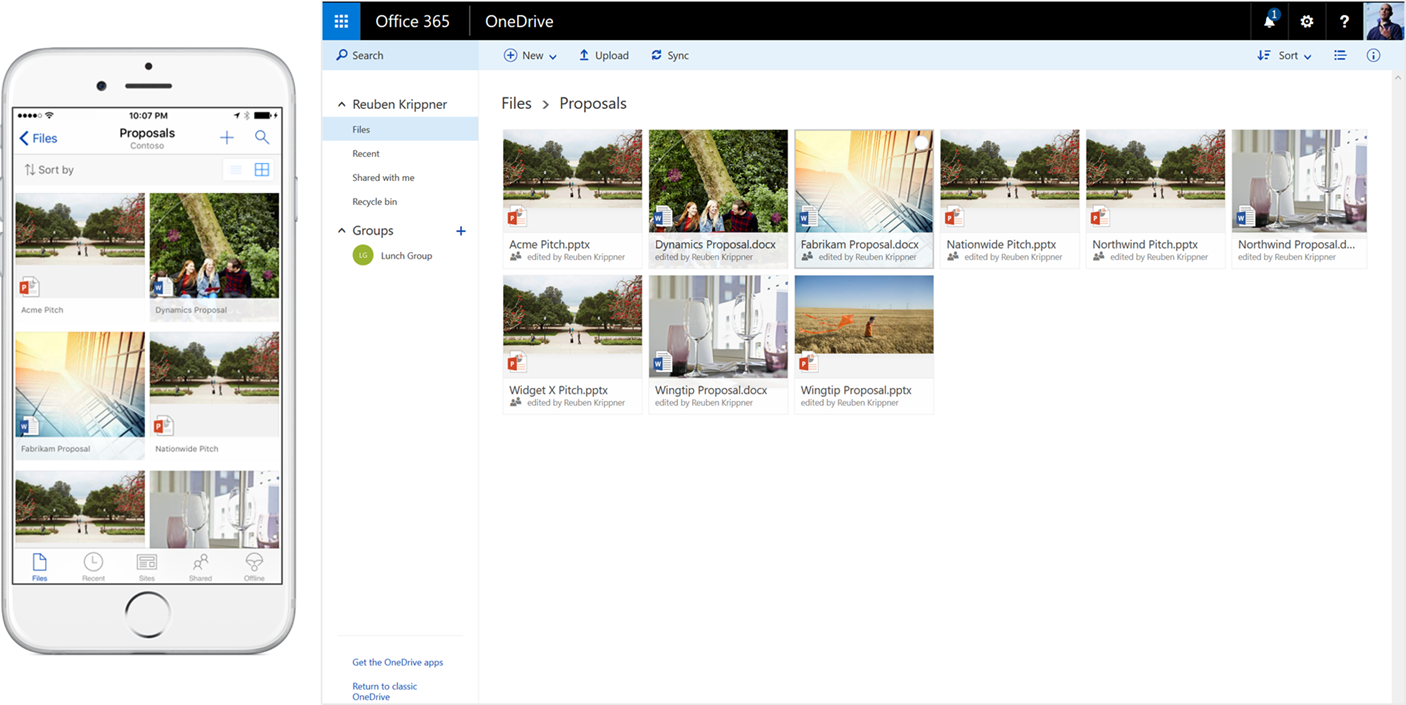 More functionalities rolling out very soon…
Microsoft has announced the following features will be available this quarter:
Access to SharePoint Online document libraries and Office 365 Group files from the OneDrive mobile app.
Intelligent discovery of documents from both OneDrive and SharePoint.
Copy from OneDrive to SharePoint in the OneDrive web experience.
OneDrive Universal Windows Platform (UWP) application.
Along with the following features which will be available before the end of 2016:
Document analytics surfaced in OneDrive to provide insight into document usage, reach and impact.
Synchronization of SharePoint Online document libraries with the new OneDrive sync client.
Synchronization of shared folders with the new OneDrive sync client.
Mobile access to SharePoint document libraries in on-premises farms.
Move and copy files between OneDrive and SharePoint in web experiences.
To find out more on Microsoft's file sharing and collaboration features, click here!
SMART intranet
The Intranet offers enhanced and improve communication and a collaboration platform for document sharing as well as advanced levels of customer service. And today Microsoft is adding a new feature to make your intranet more interactive and adaptable.
SharePoint Mobile Application
You can now enjoy your intranet through SharePoint mobile app modeled for your Windows, iOS and Android!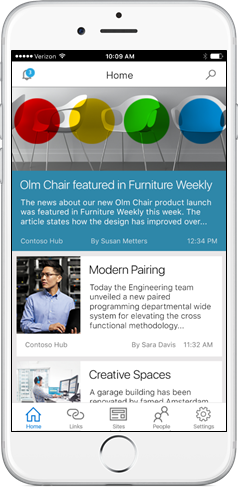 Interested? You can watch a demo of the SharePoint mobile application through the video below:
SharePoint home page
SharePoint home page in Office 365 allows you keep track of all your website activity in double speed through simplified Intranet navigation.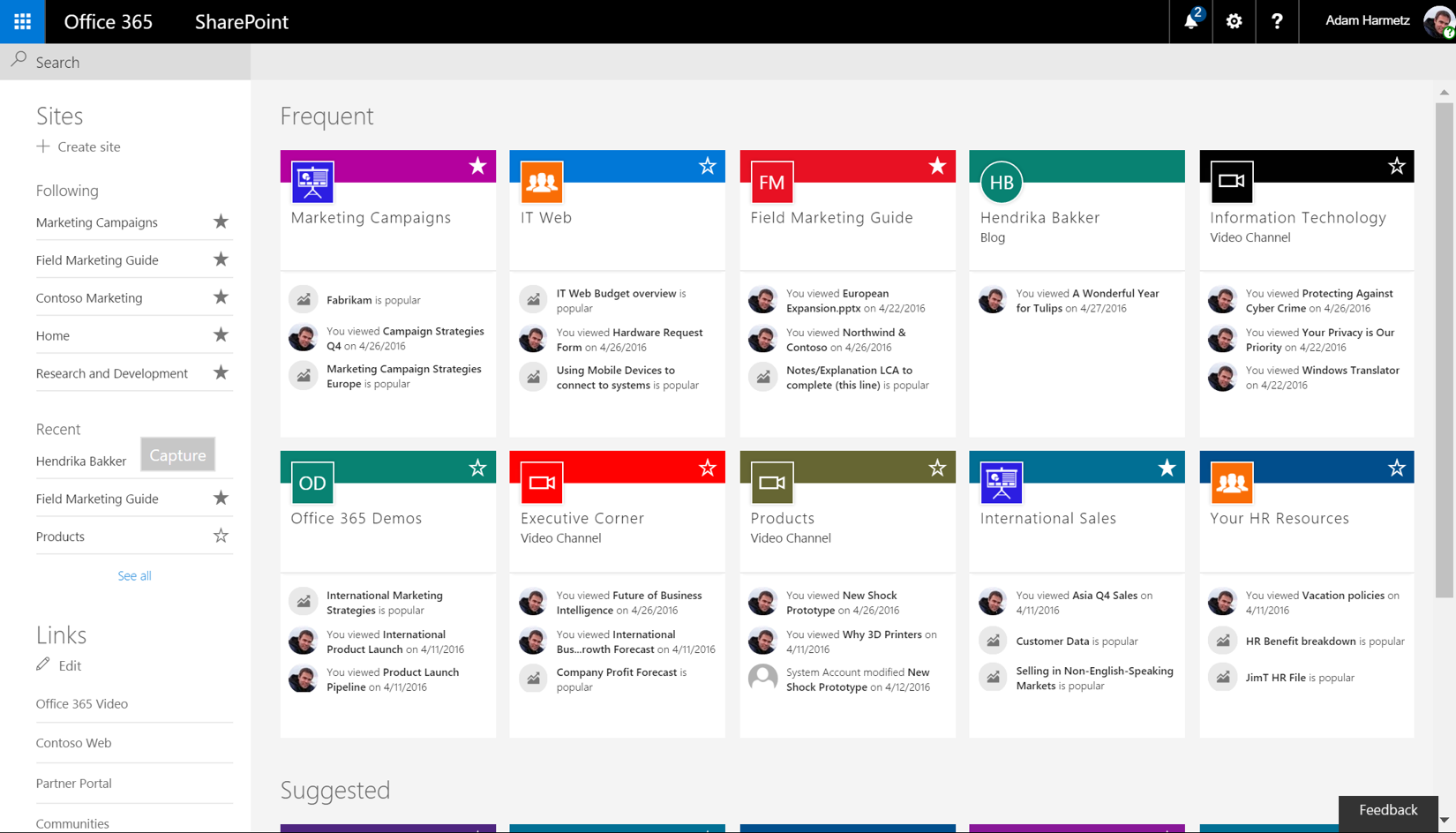 Modern SharePoint Team Sites
SharePoint Team sites do a great job at keeping you in the center of all information by allowing you to effectively respond to certain needs such as task implementation, general announcements, knowledge sharing and feedback gathering.
Microsoft are giving Office 365 groups each a team site. The team site feature will include a highly-productive homepage powered by Office Graph along with tons of other extraordinary features (libraries, content management and the ability to design responsive and highly productive pages.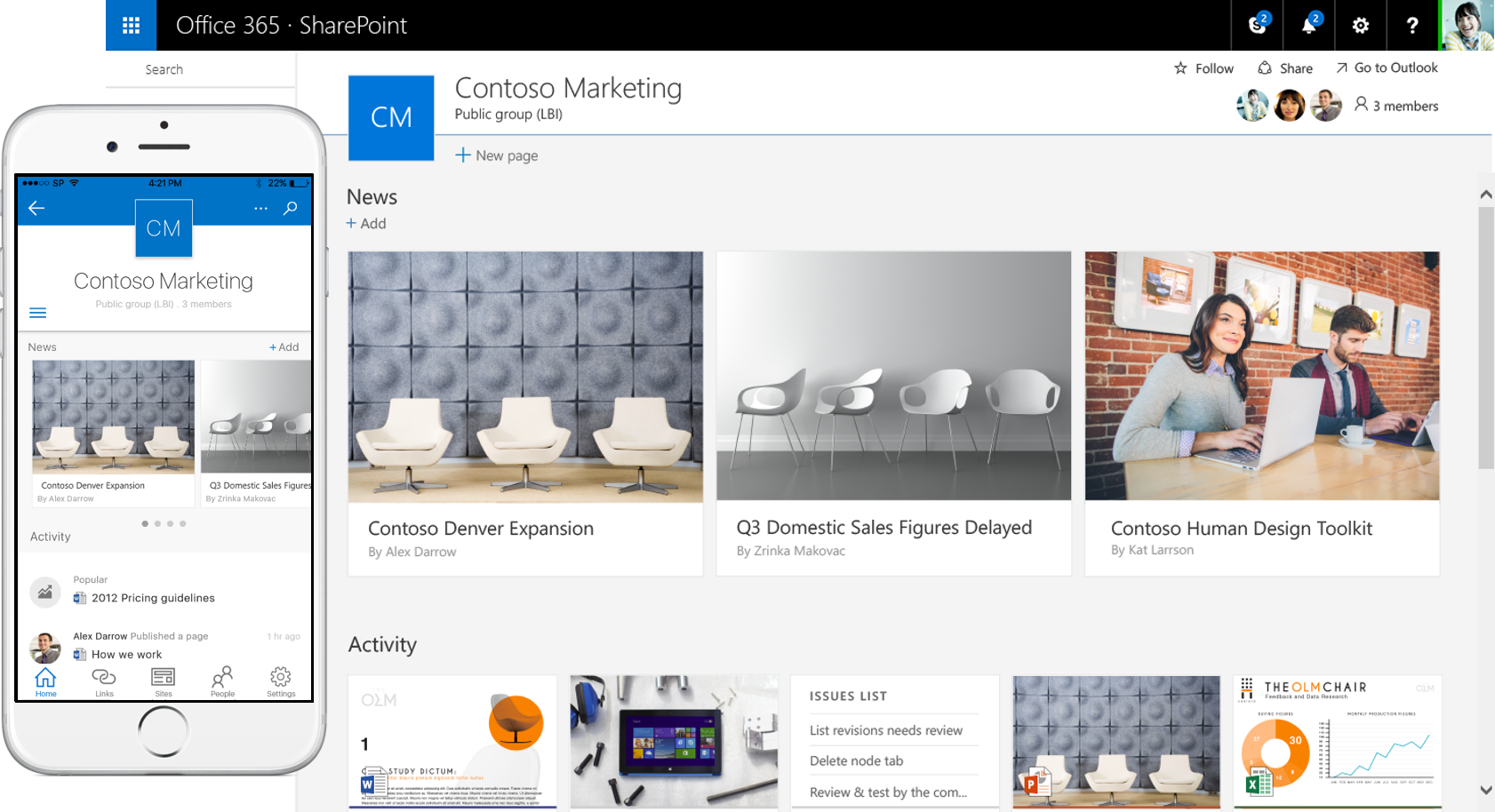 Microsoft Flow and PowerApps integration
Microsoft introduced Microsoft Flow and announced the public preview of PowerApps last week. Microsoft Flow is a new service for automating workflow across the growing number of apps and SaaS services. And Microsoft PowerApps work facilitating and accelerating collaboration and communication considerably between coworkers.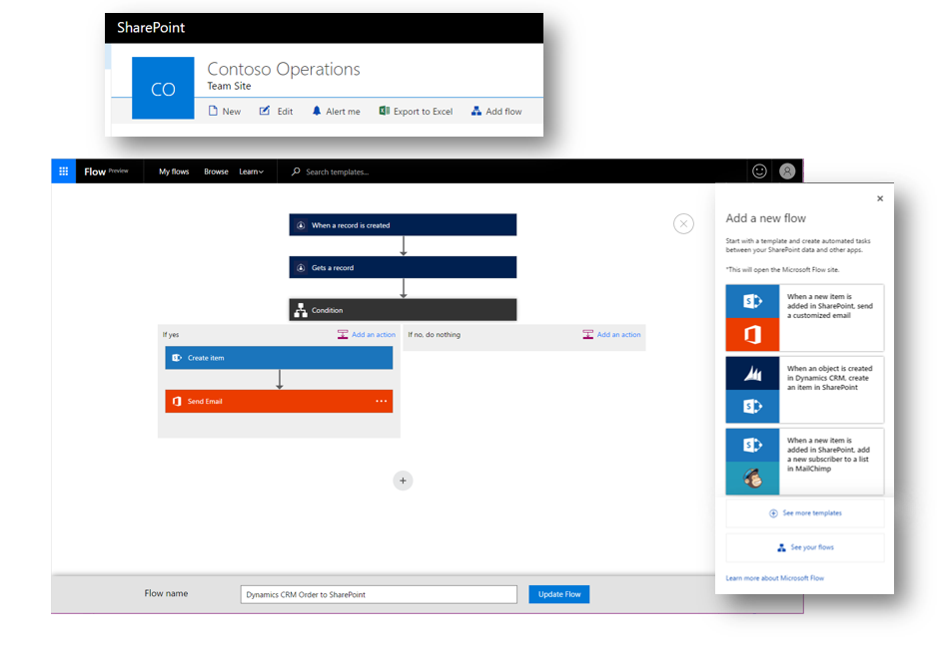 Interested? Read more on Microsoft Flow and PowerApps here! You can also see "Flow and SharePoint" and "PowerApps and SharePoint."
Announcing SharePoint Framework!
SharePoint Framework integrates seamlessly with Microsoft Graph and enhances responds effectively to customer demands. SharePoint Framework allows web developers to implement JavaScript across the cloud, in fact, Microsoft admitted to using this experience in the majority of the features they are recently introducing!
Microsoft has announced that SharePoint Framework will be rolled out this summer! To find out more information regarding this new experience, see "The SharePoint Framework—an open and connected platform."
Security and Privacy
Microsoft focuses on deploying highly secure features in Office 365. And by combining both security and privacy in SharePoint, you will enjoy a highly dependable and well-managed set of administrative controls, policies and reports.
Microsoft have also deployed IT controls in the new SharePoint for a more secure service combined with a great user experience as well as dynamic conditional policies that ensure maximum protection through authentication and geographical location features.
There's more to it! …
In addition to the aforementioned reliable security applications, Microsoft gives you the freedom to add your own custom policies! You will also receive report and audits whenever you wish to look into your SharePoint security and privacy.
Microsoft also promise to allow you to manage and control your SharePoint data privacy through encryption!
Want to know more? Visit Office 365 Trust Center and grab more intel on Office 365's security and privacy!
Microsoft will roll out "Dynamic conditional access policies" this quarter, along with:
Bring your own encryption key.
Granular access controls.
SharePoint site classification.
Hybrid SharePoint Insights (preview).
For more information regarding Microsoft's announcements, you can watch the video below:
Finally...
And as a final announcement, Microsoft has designed a number of awesome new experiences to FastTrack for Office 365!
Microsoft FastTrack is a customer service that helps your business shift smoothly to the cloud and deliver much faster and better results, it gives you the opportunity to increase new services and plan rollouts effectively.
Microsoft are providing a no-cost engineering lead service so you can successfully move your documents to Office 365!
For more information regarding FastTrack, watch "Migrate your file shares into OneDrive for Business with help from FastTrack." And for those of you who are interested in Microsoft's latest announcements, you can watch: "Accelerating Innovation with Hybrid: SharePoint Server 2016 and Office 365."
If you are an on=premises hybrid customer, you can deploy SharePoint server 2016, project server 2016 and Office Online Server!
You can find out more by reading "SharePoint Server 2016—your foundation for the future."
And so we would like to present a huge and warm thank you to Microsoft for all their wonderful efforts and like Microsoft, Ctelecoms would like to welcome you all to the future of SharePoint!!!