From reading director of product management for the OneDrive team, Reuben Krippner's blog on SharePoint's newest upgrades, We, Ctelecoms are thrilled to introduce Microsoft's new update in Office 365 file management!
You can now share and engage all your documents in new different ways.
See how you can share your files on ALL devices through OneDrive for business and SharePoint Online!
OneDrive Recap
Microsoft has deployed various upgrades in OneDrive, to name a few:
You can safely sync OneDrive onto your PC and Mac.

You can integrate OneDrive into your Office 365

Mobile applications that are now "extremely popular"!
They are continuing to evolve OneDrive with cool new updates, and later on this year, you will be able to sync any single file you have stored in your SharePoint document library!
A file's Journey
OneDrive and SharePoint team sites are the main spots to save your documents, they work together to simplify your file storing and file access. So how would you use these file hosting services to collaborate and engage with others?
OneDrive: Through OneDrive, you can share, organize and access files in the cloud.
SharePoint team sites: "publishes" your work. People will be able to find and view your files as well as give feedback on your work thus boosting engagement and efficiency.
Copy from OneDrive to SharePoint
Microsoft are releasing a new capability in OneDrive! You will soon be able to copy a file from your OneDrive onto your SharePoint, and later on, users will also be able to move their files, says Microsoft.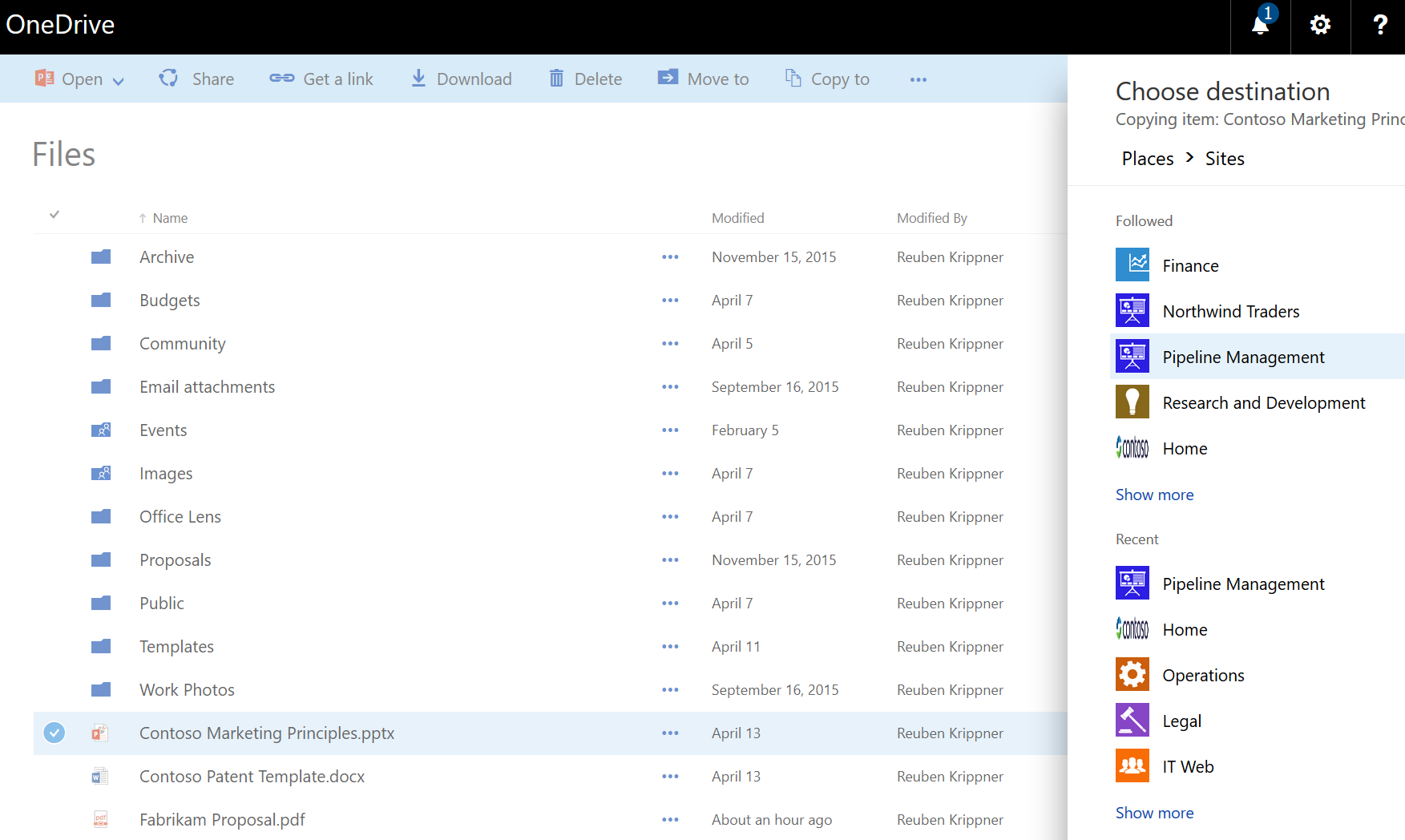 Enhancements in the document library!
Microsoft have added an easy to use browser functionality on OneDrive, and received feedback from users requesting an equally simple feature in SharePoint. And so, we are very excited to inform you that Microsoft will be introducing an upgrade to your SharePoint document libraries allowing you to enjoy SharePoint document libraries while working in Office 365!
Pin to top
Microsoft has deployed the "pin to top" in your document libraries'! You can now pin all your important content as well as videos, at the top of your library for much easier and faster access! And that's not all, Microsoft has added an extra experience to the norm, you can also add a link from outside your document libraries to your list of pinned items!
You can also manage your pinned files by filtering and organizing your columns, Microsoft has also further enhanced the search experience, so now you will enjoy results that are full-text added with inline metadata management and more. To import files from your OneDrive, simply click Move to/Copy to transfer your documents to Office 365.
Below, you can see an image of the new SharePoint document library experience: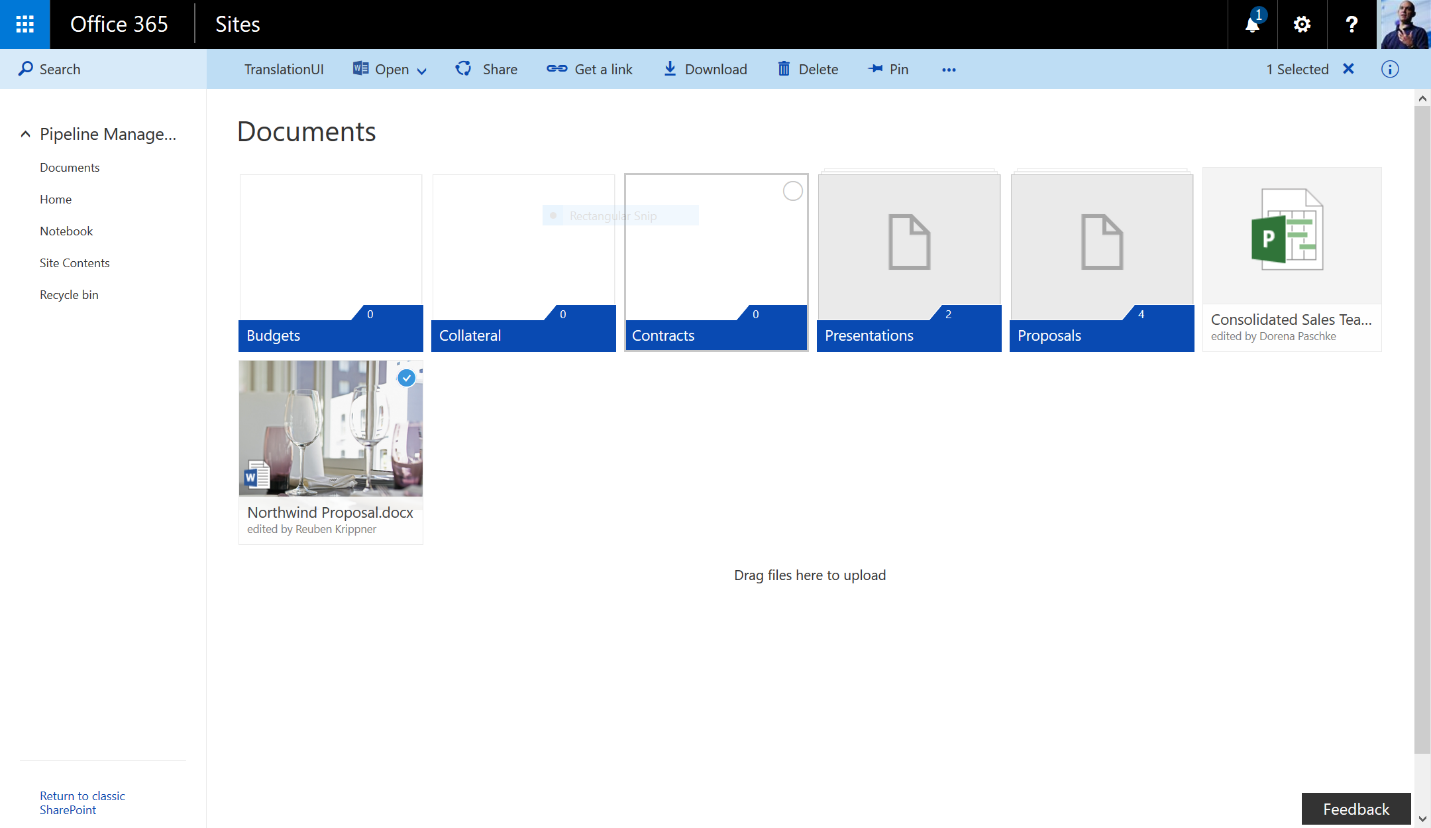 Access all your Office 365 documents wherever you are!
Microsoft is on the mission of enabling you all to access your files no matter where you are! And so Ctelecoms are very happy to announce that Microsoft will, this year, be rolling out a cool new functionality that will allow you to view your files anywhere. And that's not all! You can now share, edit your Office files in OneDrive and SharePoint. This experience will soon be available for Android and Windows Phone.
Intelligent discovery
Intelligent discovery is a smart experience within OneDrive and SharePoint that allows relevant content to reach you instead of the other way around. So according to the files you share and collaborate on, intelligent discovery displays results that it sees relevant to your work! This feature will soon be available for iOS and Windows Phone in the upcoming months.
Here, you can see what intelligent discovery looks like in Android: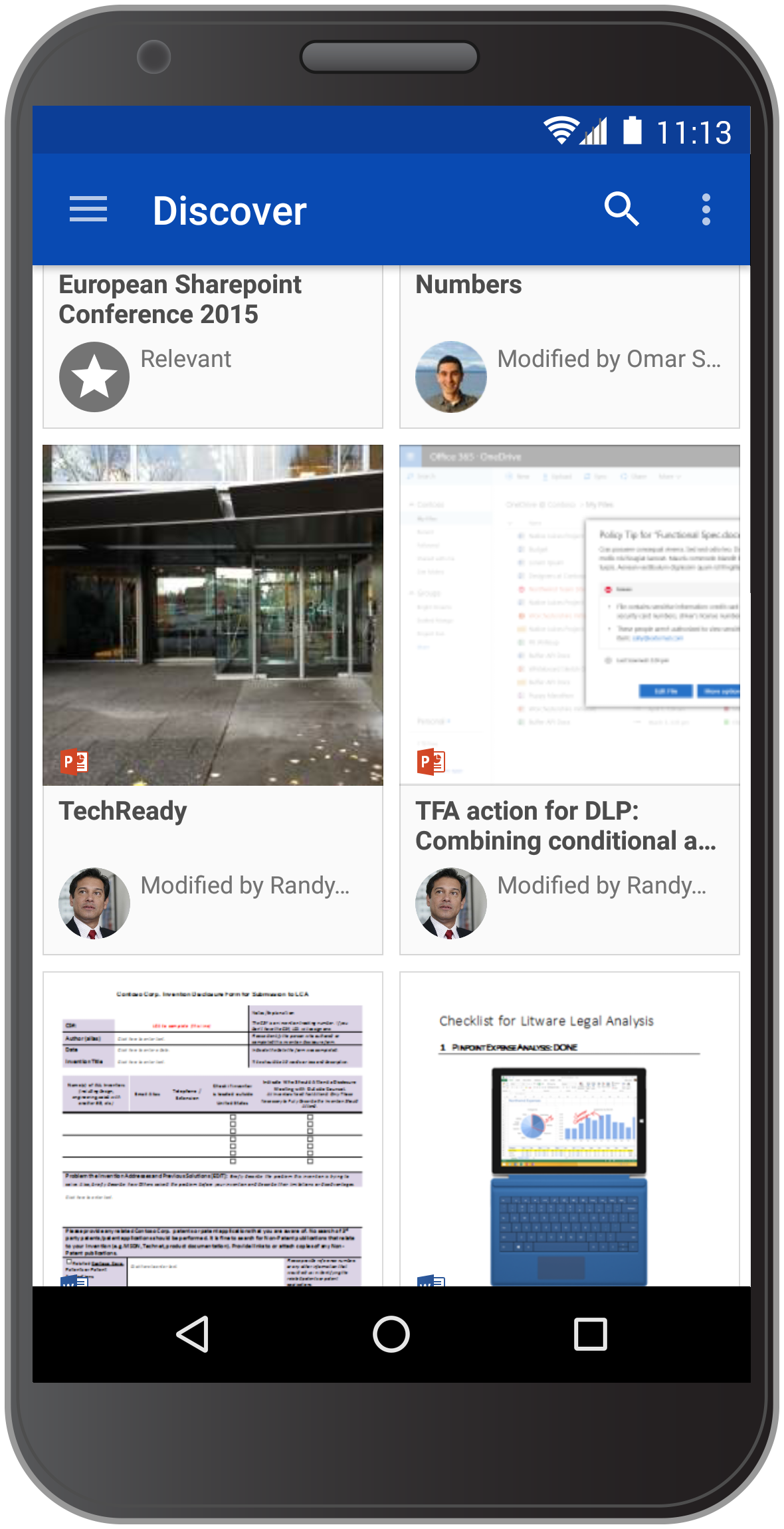 Intelligent discovery view in browser: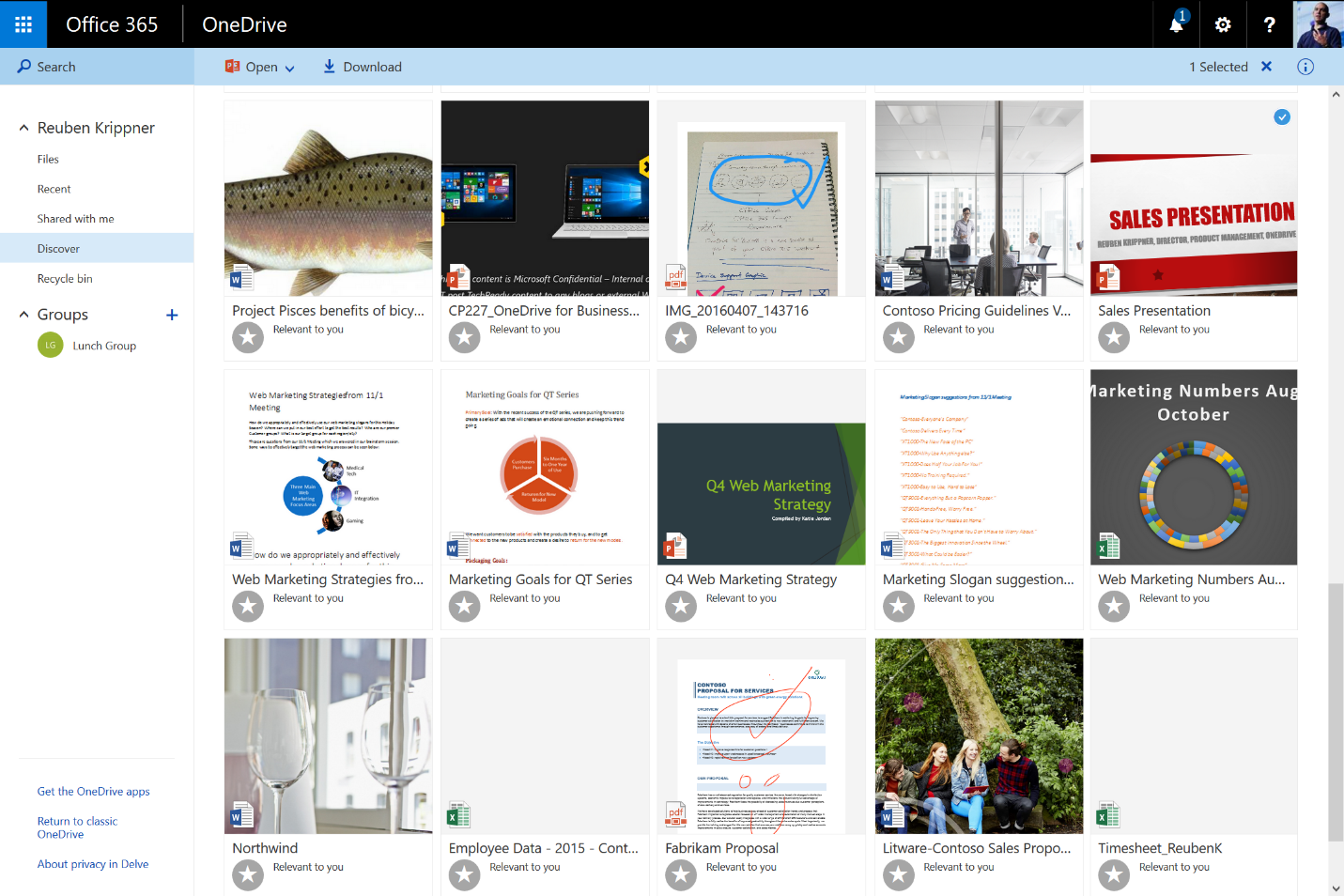 The BEST announcement so far!
It's no secret that the worldwide population adore Facebook and Instagram for all the attention, likes and shares they get on their posts, and so Microsoft will be rolling out an "Instagram lookalike" for all your files! Not only will you be able to publish all your documents from OneDrive and SharePoint, but you'll WANT to publish them for all the views and engagement you'll get as a result! In addition to this, Microsoft will also add a feature that allows you to see analytical reports on your content reach, views…etc. This experience will be available in the next upcoming months!
The image below displays a prototype of the analytical reports: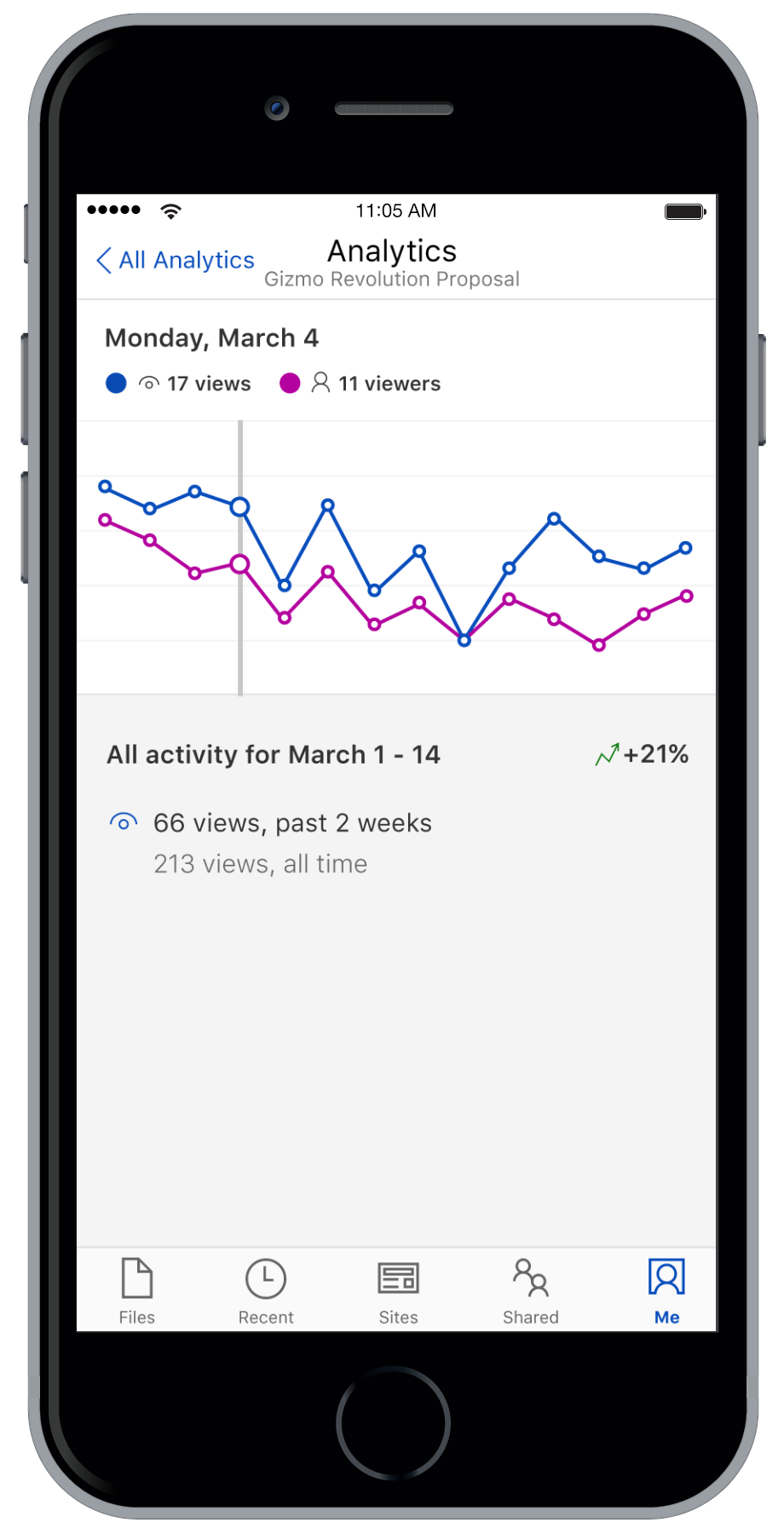 And Finally...
As usual, a huge thank you goes to Microsoft for all their amazing efforts, we're all very excited to try out these awesome new features and look forwards to seeing what Microsoft still has in store for us! You can give your feedback and request features you would like to see on Microsoft's Access UserVoice, and please tell us what you think in the comments section below!