Microsoft Teams is the chat-based workspace that's naturally integrated with the familiar Office applications and is built from the ground up on the Office 365. It is designed to help fulfill the diverse and collaborative needs of people and organizations.
This is an entirely new experience that gives tremendous opportunity to brings together people, conversations and content, along with the tools that teams need so they can easily collaborate to achieve more – All via Microsoft Teams!
Let's have a quick glance at the Microsoft Teams' Officially introduced by Microsoft before we move on to the details!
Now let's explore more about the key areas of how Microsoft Teams brings value to your business!
• Communicate in real time
The key feature of Microsoft Teams is that it gives you a hub – a central interface – where everything can be organized easily and effectively, enabling you to give your team instant access to everything they need, including the ability to make persistent and threaded chats that enable you to reply to others and even make mentions to keep everyone engaged.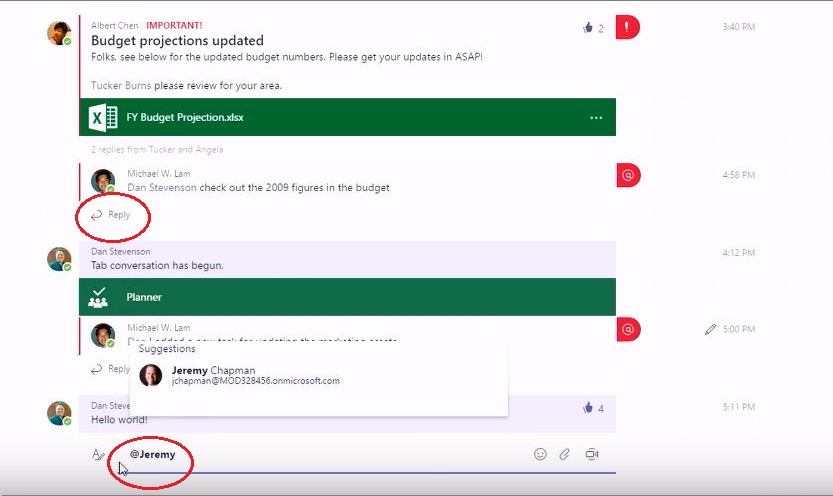 Team conversations are visible to the entire team, but there is of course the ability for private discussions.
• Customizable to your needs
Microsoft Teams workspace can be tailored to include all the content and features your team needs to access and use every day. You can easily add tabs to provide quick access to frequently used documents and cloud services.

• One Window Does Everything
With Microsoft Teams, there will be no more skipping between a load of different windows and this should help you avoid the information silos which lead to misunderstandings and confusion. Now you will easily incorporate all the apps you already use in one place where everything can be seen by everyone. Also you can work on your documents from within Microsoft Team.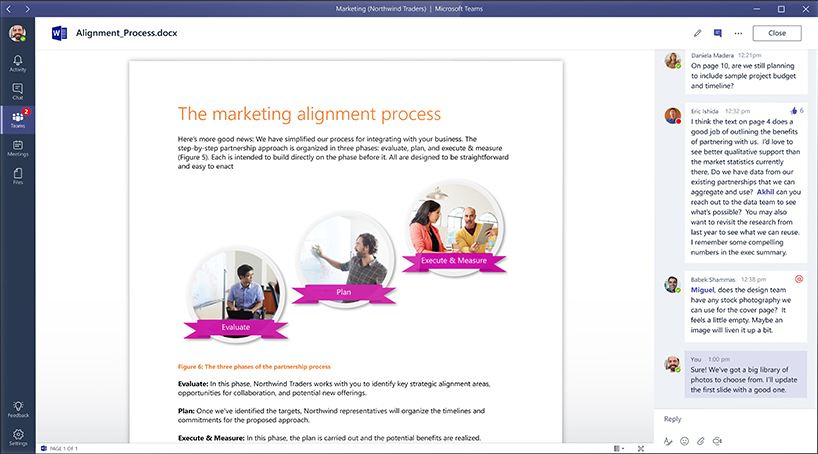 • Work from anywhere
In Microsoft Teams, you can view and discuss projects in real time, regardless of location. This means you'll have real-time discussions about work, which enables you to clarify the purpose of any task or document and give instant feedback.
• More Flexibility
Microsoft Teams gives you everything you need to be more flexible, it enables you to schedule meetings, set up conference calls on Skype for Business and work collaboratively on documents in real time.
• Security you can trust
Microsoft Teams provides the advanced security and compliance capabilities that's expected from Office 365. Data is encrypted in transit and at rest. After all, Microsoft Teams is served out of Microsoft's hyper-scale global network of data centers, automatically provisioned within Office 365 and managed centrally, just like any other Office 365 service.
Want to make the most of Microsoft Teams?
Microsoft Teams is currently available to Office 365 users with one of the following plans: Business Essentials, Business Premium, and Enterprise E1, E3 and E5. Microsoft Teams will also be available to customers who purchased E4 prior to its retirement. Office 365 is designed for the unique workstyle of every group and includes purpose-built applications, all deeply integrated together! Now seize the opportunity! Purchase Office 365 and enojy our free installation and support!
Ctelecoms also provides a unique video in Arabic – the first of its kind – just to give you an overview of how Microsoft Teams Works and smoothes all your business collaborations.
Don't miss the chance to subscribe to our Arabic Channel on Youtube to stay up-to-date with our latest videos!