Office Lens is an app that's more like having a scanner in your pocket. You can use it to take pictures of things like business cards, restaurant menus, notes — anything you want to keep on hand. It can easily trim, enhance, and make pictures of boards and docs readable. You can also use Office Lens to convert images to PDF, Word and PowerPoint files, and you can even save images to OneNote or OneDrive.
Office Lens turns your phone's camera into a small scanner. It will digitize notes from whiteboards or blackboards. With Office Lens, you won't lose receipts or stray sticky notes again!
Take A Picture!
Choose whether or not to use a flash, and then make sure the frame lines up with the item you want to capture. Use the Camera button to take a picture. If you prefer, you can import an existing image from the local gallery on your device. If you want to retake the photo, tap the Trash button icon to delete it, then tap the Take More button to retake the displayed image. If you want to take more photos, tap the Take More button.


Review and edit
You can edit your image before you save it so it's exactly the way you want it to be. Tap the Crop icon to trim away any parts of the image that you don't need. You can also add a caption to the image. This caption will be used as the alt text in OneNote and the file title on OneDrive. After you edit an image, tap Save at the bottom. If you take more than two images, Office Lens will show all the images you took in the gallery.


Office Lens has three modes, or settings, that help make your captures look their best:
With Whiteboard mode, glare and shadows disappear.
With Document mode, text is clear and easy to read.
With Photo mode, you can take pictures of people and scenery.

Also, when your picture includes printed text, such as a poster or business card, OneNote on a PC can recognize the text with optical character recognition (OCR) so you can search for words in the image — and you can edit the text, or copy and paste it into apps like email and documents. Share your meeting notes with co-workers. Make digital copies of your printed documents, business cards, or posters and trim them precisely.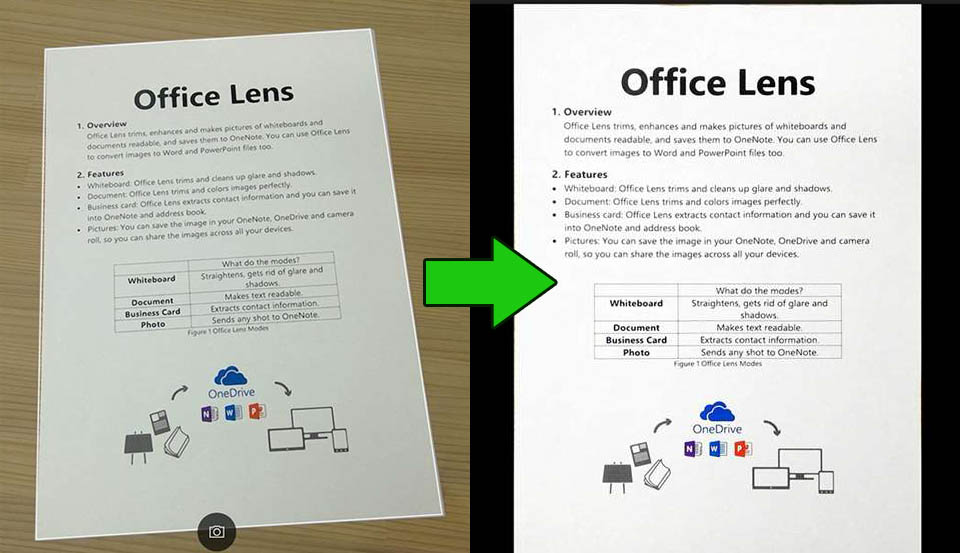 Office Lens is a FREE universal app! It works on all your Windows devices. Don't miss the chance to download it NOW for your: Andriod, Iphone, or Windows 10!

Also check out our Online Store now and enjoy free installation services and support once you purchase any of our products!