With Microsoft announcing the second-year anniversary of Outlook Mobile for Android and iOS, several new add-ins have been launched to help users accomplish awesome things from email. These add-ins will inevitably turn Outlook into the best mobile email application ever.
Completing tasks in the email sometimes requires the users to leave their inbox and open other apps. The new add-ins for Outlook –available today to Office 365 customers– will transform your inbox into a "do-box" so that tasks are accomplished quickly – right from your inbox. This will save the time consumed while switching between the apps.
To start using add-ins for Outlook on iOS, go to Settings > Add-ins and then tap the + sign next to any add-in you want to enable. Tapping the add-in icon in an email header launches all the add-ins you have enabled.

Now let's take a closer look at the latest add-ins in Outlook:
Microsoft Dynamics 365
With the Dynamics 365 add-in for Outlook, you can quickly look up the Dynamics 365 record of your customer contacts, associate an email or appointment with an existing opportunity or create new records with just a few taps—right inside email—without having to copy/paste and switch back and forth between your email and Dynamics 365.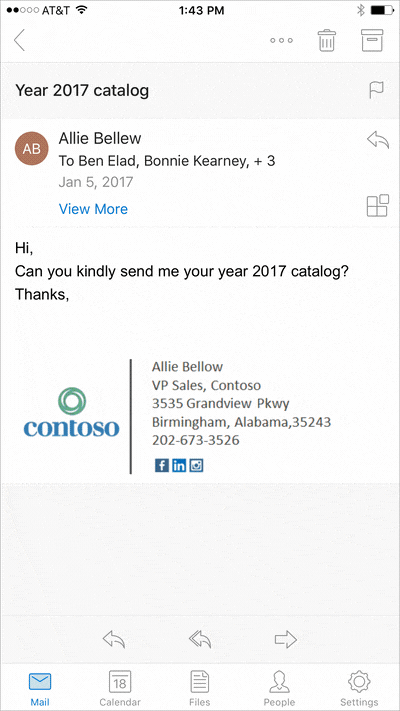 Nimble
Nimble provides business intelligence about your email contacts and their organizations—right in email. It gives you insights on any of your contact in Outlook, including broad social profiles, industry, shared relationships, mutual interests, company profile, revenue and more, to help you get prepared for meetings and engage effectively.



Trello




Trello will turn your email into actionable items. It will help you keep track of your projects to make sure important emails never fall through the cracks. Once you enable Trello, simply click the Add card to Trello action to associate any incoming email with an existing board. You can create cards and edit associated descriptions and due dates directly from Outlook.






Evernote




Capture what's on your mind and stay organized with the new Evernote add-in for Outlook as it enables you to can clip emails from Outlook to a project notebook in Evernote, where they will appear alongside other project-related assets such as meeting notes, saved web pages or Office documents.





Microsoft Translator




Read email messages in your preferred language on the fly across any device with support for 60 languages.





Smartsheet




With Smartsheet's add-in for Outlook, you can get work assigned, updated and completed more quickly, without having to leave your email. Smartsheet also helps you stay on top of your work, create new tasks and add relevant information, including attachments from email into Smartsheet.



GIPHY


GIPHY is the world's first and largest GIF search engine. With the new GIPHY add-in for Outlook, you can now use GIFs to make your replies fun and expressive without leaving your inbox.





In addition to Outlook on iOS, you can access the add-ins from Outlook 2016 or 2013 for Windows, Outlook on the web and Outlook 2016 for Mac for the same email account.

These add-ins for Outlook are currently available only when reading email. But Microsoft says it will be adding more add-in actions for composing or replying to email in the future.