Ctelecoms is eager to help your small business achieve more and accomplish their goals faster. And today we're introducing you to a newly released Office 365 service called: "Outlook Customer Manager".
Microsoft announced that Outlook Customer Manager is now rolling out to all Office 365 Business Premium subscribers worldwide, and is also now available for Outlook on the web and Outlook for iOS.
If you have too many clients and find it hard to remember the conversations you've had together or follow through on their request, Outlook Customer Manager will help you address those challenges like you never did before.
Outlook Customer Manager is a cloud-powered solution designed especially for small businesses. It gives you a complete view of your interactions with each customer so that you can easily track tasks and deals in progress and stay on top of customer relationships – all from within your inbox, with no need to install or learn separate tools.
With Outlook Customer Manager, you can access your customer's data faster and manage your relationships with them more efficiently, including intelligent reminders and integration with Bing, Cortana and Microsoft Flow.
Quickly Get Started in Outlook Customer Manager
To get started in Outlook on the web, just click the Outlook Customer Manager icon to see a quick view of customer information, such as emails, meetings, calls, notes, files, tasks, deals and deadlines.
Focus on what's important
Within the busy day of a business owner, it's easy to forget about items that need follow-up—or worse, fail to fulfill important commitments to a customer. Outlook Customer Manager helps you stay on top of opportunities and commitments by:
Giving you automatic timely reminders containing customer inquiries.

Allowing you to associate tasks with a contact, company or deal.

Enabling you to list your deals by stage, close dates, priority and amount.

Helping you prioritize your time as the system automatically presents a Focused list of your most important customers and deals.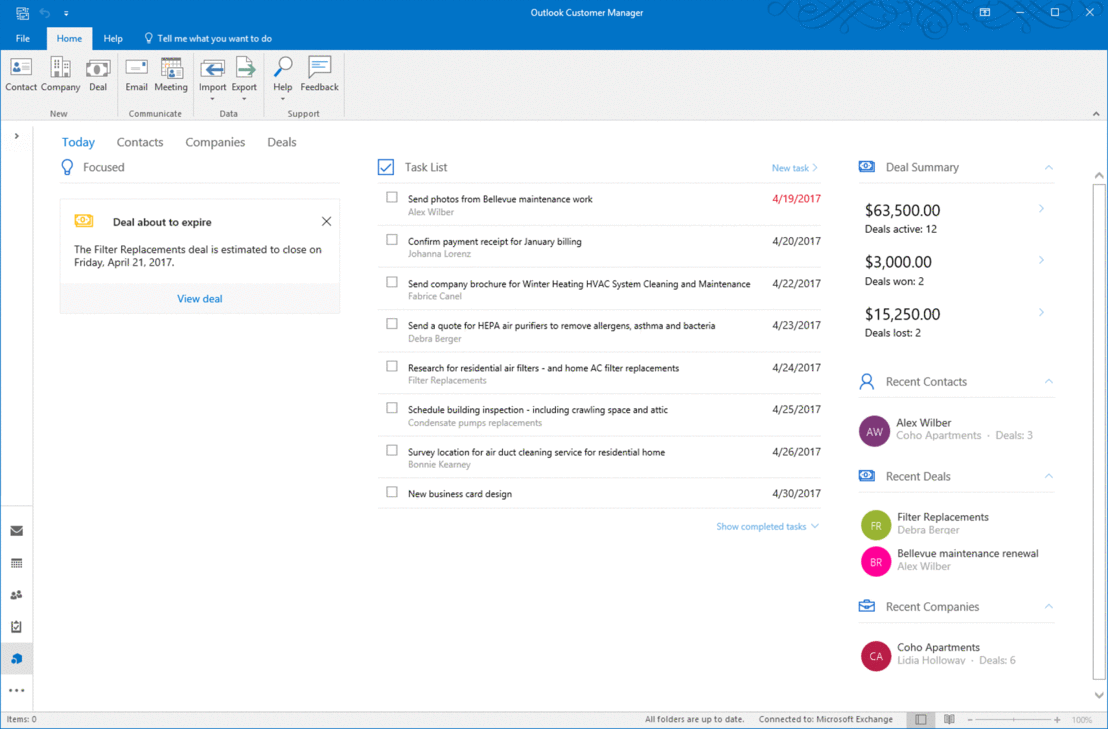 Auto-fill customer business information with Bing suggestions

Outlook Customer Manager gives you one view of information coming from various sources by allowing you to associate all the people you deal with from a company together.
To save you time and keep you focused on your important work, Outlook Customer Manager suggests company information surfaced from Bing. If you accept a suggestion, the business address, website and other information found online will automatically be added to the company's profile in your Outlook Customer Manager.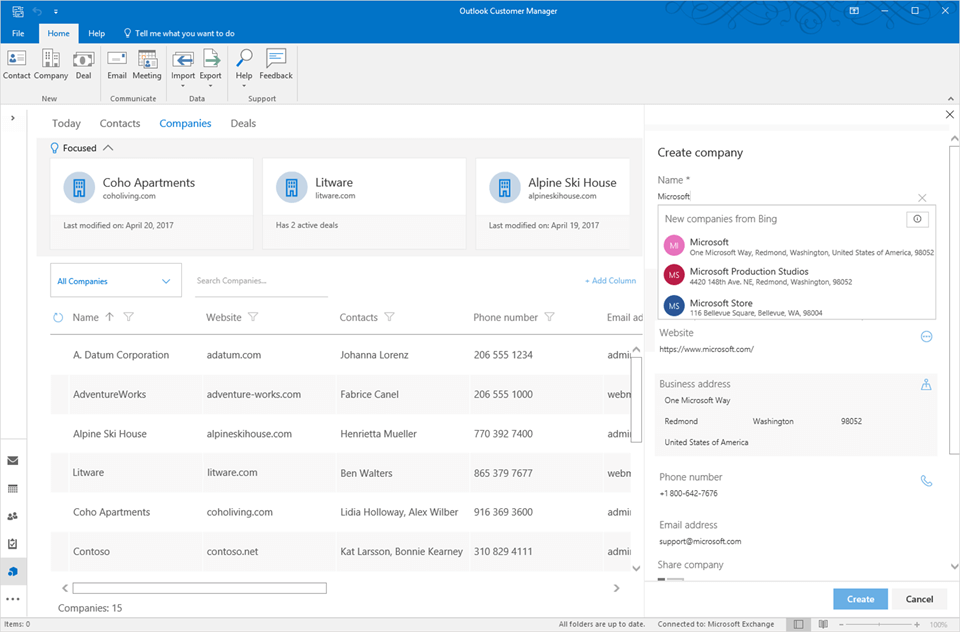 Use Cortana to automatically schedule meetings with customers
Setting up a meeting with customers can be time-consuming—often taking more time than the duration of the meeting itself. But with a little help from Cortana, Outlook Customer Manager now offers you the option to let Cortana, your personal digital assistant, arrange meetings on your behalf, so you can focus on more productive work.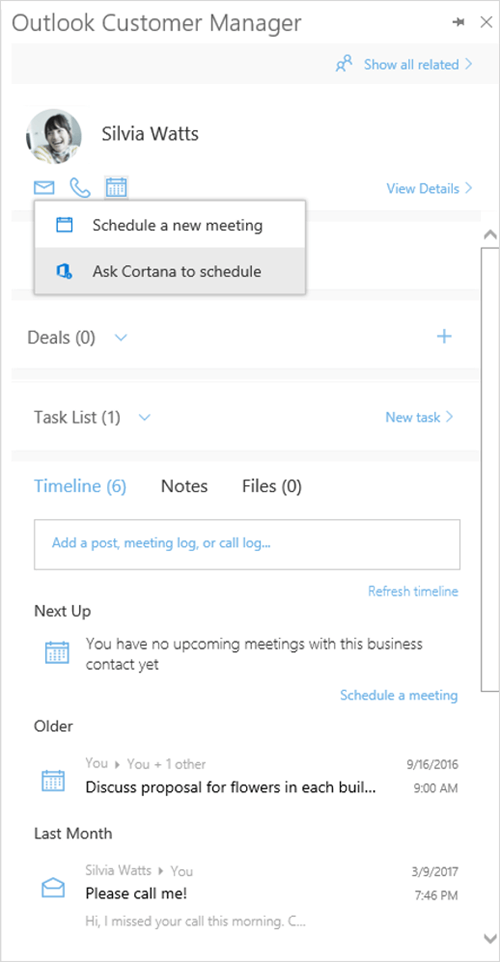 Graduate from managing contacts to building relationships
Now you can eliminate the hassle of maintaining consistent customer information across the various apps your business uses, as Microsoft has made it easy to connect to Outlook Customer Manager using Microsoft Flow so you can automate repetitive multi-step workflows needed to manage customer information. For example, with a few clicks, you can ensure that new subscribers who sign up for your newsletter in MailChimp are automatically added as business contacts in Outlook Customer Manager. To help you get started, you can view the available templates at Microsoft.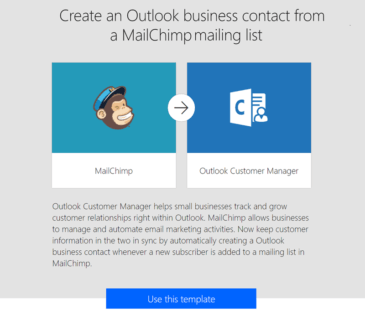 Access on the go
Work doesn't always happen in front of a desk. The Outlook Customer Manager mobile app for iOS gives you quick access to customer information when you're on the go or want to capture new information quickly. Tooltip when the Outlook Customer Manager mobile app will be released.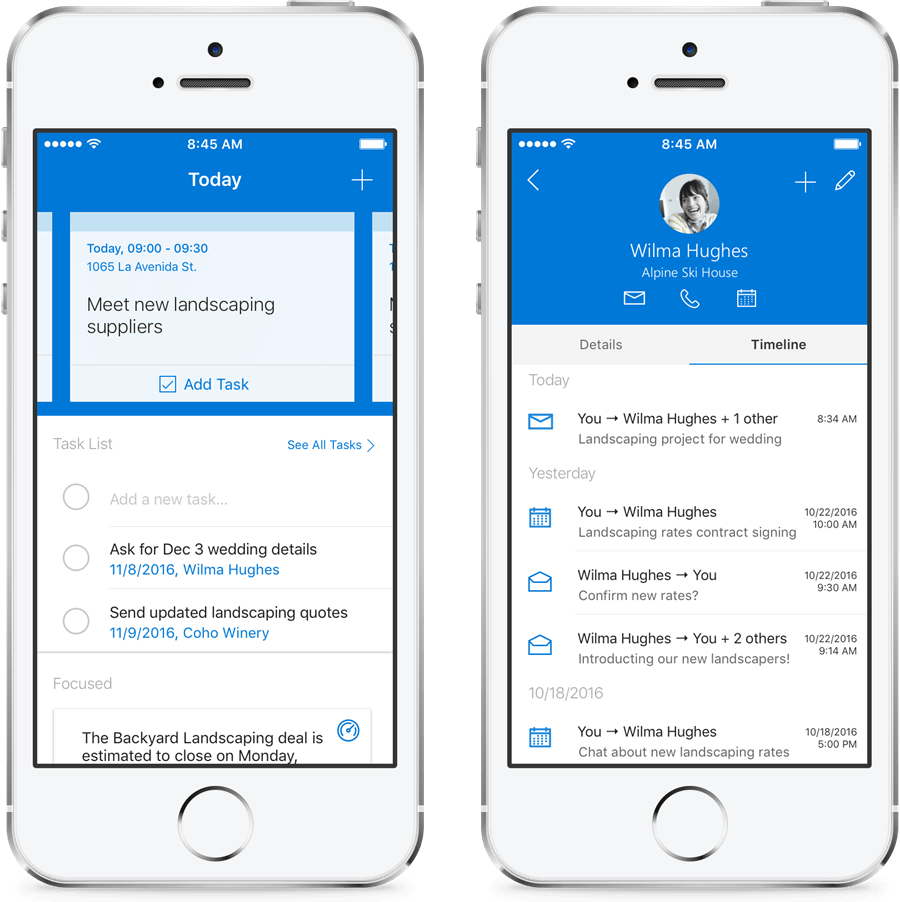 More features are on their way
Microsoft says that it will soon add more functionality to Outlook Customer Manager, including a detailed view of all user's customers and deals. To keep up to date with the increasing features of Microsoft solutions, visit our Microsoft Cloud Blogs.
Also if you would like to explore more about the cloud journey of Office 365 and how it can empower your business, visit our online store.
Ctelecoms Team