Passwords on their own aren't as effective as we need them to be. Cyber attackers have the power to test billions of passwords combinations in a second. This is one of the key reasons why multi-factor authentication is currently very important to account security across Saudi Arabia.
The concept of security using multi-factor authentication is that, while there may be a weakness in one authentication factor (such as, a stolen password or PIN) the strength of a second or third factor would compensate to provide proper authorization for access.
Multi-factor authentication makes it extremely difficult – and even impossible – for an unauthorized person to gain access to computers, mobile devices, physical locations, networks, or data bases. It requires multiple evidences proving identity to be presented to the access control system so that even if some unscrupulous element gains knowledge of your username and password, they would still face an additional, more sophisticated layer they should breach before gaining full access.
How can I Have Multi-Factor Authentication for my accounts?
Simply by migrating to Office 365 or submitting your information in the form above to enjoy our FREE 30-DAY Office 365 Business TRIAL which will give you the most powerful tools needed to take full advantage of Multi-factor authentication. The Office 365 administrator has the unique ability to enroll users for multi-factor authentication through the Office 365 admin center. The admin can also configure App Passwords for Office desktop applications.
After a user is enabled for multi-factor authentication, they will be required to configure their second factor of authentication at their next login. Each subsequent login is enforced and will require use of the password and phone acknowledgement.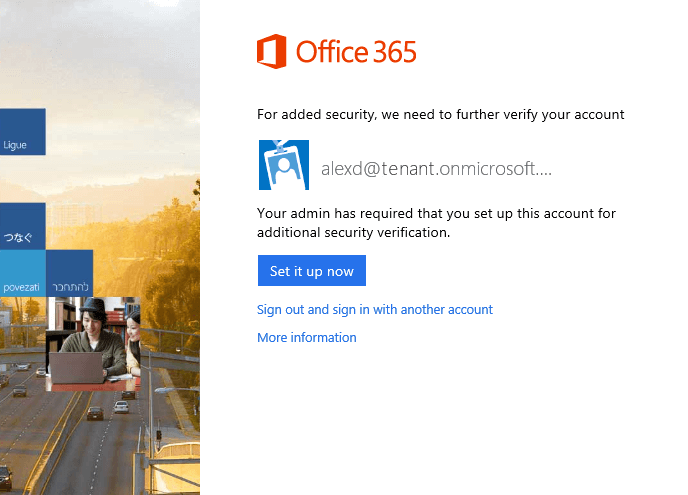 Any of the following may be used for the second factor of authentication
Call my mobile phone
The user receives a phone call that asks them to press the pound key. Once the pound key is pressed, the user is logged in.
Text code to my mobile phone
The user receives a text message containing a six-digit code that they must enter into the portal.
Call my office phone
This is the same as Call my mobile phone, but it enables the user to select a different phone if they do not have their mobile phone with them.
Notify me through app
The user configures a smartphone app and they receive a notification in the app that they must confirm the login. Smartphone apps are available for Windows Phone, iPhone, and Android devices.
Show one-time code in app
The same smartphone app is used. Instead of receiving a notification, the user starts the app and enters the six-digit code from the app into the portal.
We Can Help You Stay Secure & Migrate to Office 365!
If you'd like to fully protect your emails, network logins, and entire business workflow with Multi-factor authentication, let Ctelecoms experts help you choose the Office 365 bundle that best suits your business and safeguards you from cyber-attacks.