A new Outlook.com beta is starting to roll out by Microsoft today. It's an opt-in web-only beta that is activated through a "try the beta" toggle on Outlook.com, and it should be available to all users within the next few weeks.

What features does the new Outlook.com beta provide?
The new Outlook.com beta will give users access to a faster and more personalized email experience. Microsoft has implemented some significant changes to the Outlook's user interface, including:

Flexible and responsive design
The Outlook.com beta delivers an improved conversation view with the ability to read and attach files a lot faster. This new design features an upgraded search experience as well as a refreshed conversations view. It also offers new personalization options that include the ability for users to pin to their sidebar shortcuts to emails from specific people.

A new search interface
The Outlook.com's new interface includes a new search interface located at the top of the inbox. This new search interface can quickly surface emails and people in its results. Users will also preview files and photos in their conversation list, making it quicker to glance at a particular email with attachments.


Streamlined User Experience
In keeping with modern times, Outlook.com beta enables users to give their communications a personal touch by enabling them to insert GIFs and emojis into emails. It also gives them the uncanny ability to conjure up old memes right inside Outlook.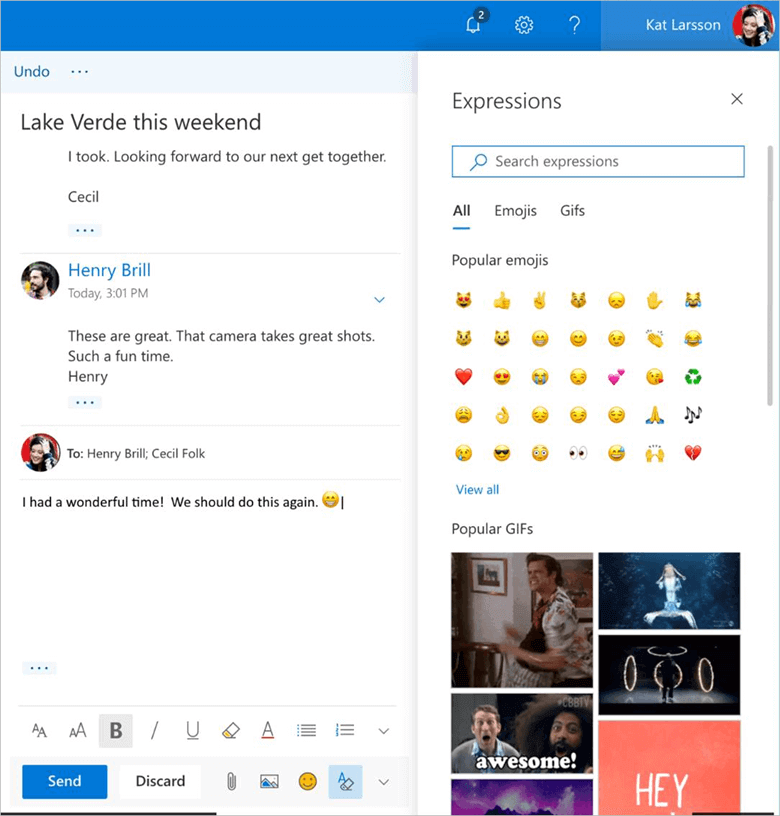 Microsoft is also testing out some new smarter inbox features, such as Quick Suggestions which offers users the ability to tag restaurants, flight information, or favorite teams' schedules into emails. If you're discussing coffee places with a friend, you can quickly add rich details and location information into a conversation.The new Outlook.com Inbox will also group all of your incoming sent and received photos into a single spot.


How do I get started?
To try out the new Outlook interface, just access the Outlook.com beta as soon as you see the toggle switch appear on the top right corner of your inbox. If you don't see it now, you'll see it in the next few weeks.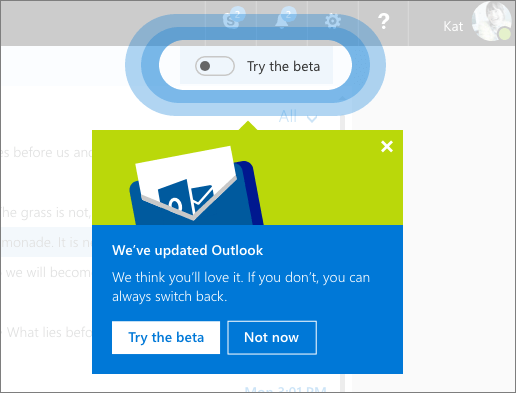 You can always revert back to the existing Outlook.com interface if there's some new features you don't like. Microsoft is looking for feedback on all the features. "Based on your feedback we'll iterate, improve, refine, or discard them," says the Outlook team. "At the end of the beta, we'll bring the best innovations into Outlook.com."