Microsoft officially launched a spate of new anti-ransomware features for Office 365 subscribers, making it an even greater, more secure productivity platform.
The first new feature is a OneDrive feature called File Restore. It allows users to go back in time and restore files to a previous state from the past 30 days.
If you accidentally delete a file you'll be able to restore it, or if you make some bad changes and want to roll back to an earlier copy, Microsoft has got you covered!
OneDrive "Files Restore" is different from "Version History"
OneDrive already had a "Version History" feature that allowed users to go back to previous versions of each file, allowing users to revert edits or even recover accidentally deleted files.
The new Files Restore feature lets OneDrive users roll back their entire account —all files and folders— to a previous time and date.
Microsoft is marketing this "Files Restore" feature as a good way to protect against ransomware attacks that lock files on a local PC, and often try to delete copies that are stored in synced folders – replicating those changes in the cloud. And we've seen these attacks in Saudi Arabia recently.
Mobile alerts for when users get infected with ransomware
Interestingly, Microsoft has also tweaked OneDrive's internal mechanisms to detect whenever an account's files might have been encrypted by ransomware.
if OneDrive detects a ransomware attack or mass deletion of cloud files, Microsoft will alert users through an email or mobile / desktop notification and a recovery process will let you quickly restore to a time before the ransomware attack

"It's the first of its kind in the industry," says Seth Patton, general manager of Office 365. "We believe OneDrive is the safest place to store your files."
It's important to note that Files Restore is a complete self-service recovery solution that allows administrators and end users to restore files from any point in time during the last 30 days. If a user suspects their files have been compromised, they can investigate file changes and allow content owners to go back in time to any second in the last 30 days. Now users and administrators can rewind changes using activity data to find the exact moment to revert to.
The picture below represnts OneDrive's histogram showing the activities undertaken on a certain file for the last 30 days.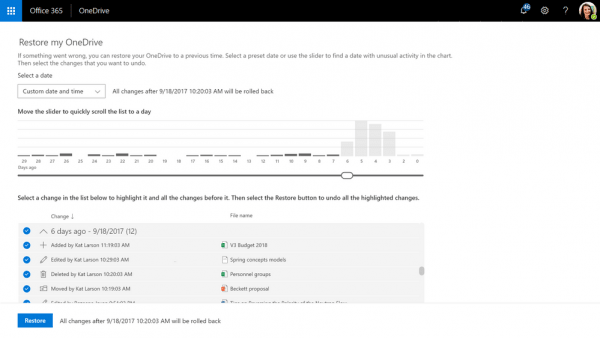 Besides protecting users from ransomware attacks and ensuring data safety, the newly added OneDrive Files Restore is outstandingly useful to recover from many other disastrous events such as mass deletes, malware attacks, corruption, and other data loss scenarios.
But File Restore is not the only additions that Microsoft announced in the most recent batch of new Office 365 security features. Microsoft has also deployed:
Password-protected OneDrive-shared links feature.
Support for end-to-end email encryption in Outlook.com.
The ability to prevent email recipients from forwarding your emails.
Microsoft now also scans links embedded in Word, Excel, and PowerPoint to see if they point to malicious content.
All Outlook.com attachments and links in emails are scanned for known viruses and phishing threats.
As you can see, these terrific capabilities can save time and stress when file loss occurs, add up to the security features already existing in Office 365 and provide a greater level of control for end users.

If you have any questions about Office 365's latest security features, make sure you contact our expert team. We are always there to help out.
Ctelecoms team