A list of tasks, a checkbox, a due date, and perhaps a notes field. The things you must have in a to-do list app is a surprisingly short list. And for sure, focusing on those core features has proved to be outstandingly successful to help you get things done.
Many people use a daily to-do list system to keep themselves on task, which is all well and good—but in a mobile environment you need modern tools to make it work effectively. Slapping sticky notes on your monitor is not going to be good enough.
With the widespread release of To-Do for Office 365 subscribers, Microsoft hopes to change our perception of the task list and reignite the to-do-list system as a viable organizational tool for enterprise employees.
So What is Microsoft To Do?
Microsoft To-Do is a fully customizable task management app designed to help you manage, prioritize, and complete the most important things you need to achieve every day. One great thing about Microsoft To-Do is that it keeps all your to-dos in one place!
Create lists for anything you want: work, travel, family, movies, or household to-dos. You can even personalize your lists with different themes and colors to help you quickly identify them.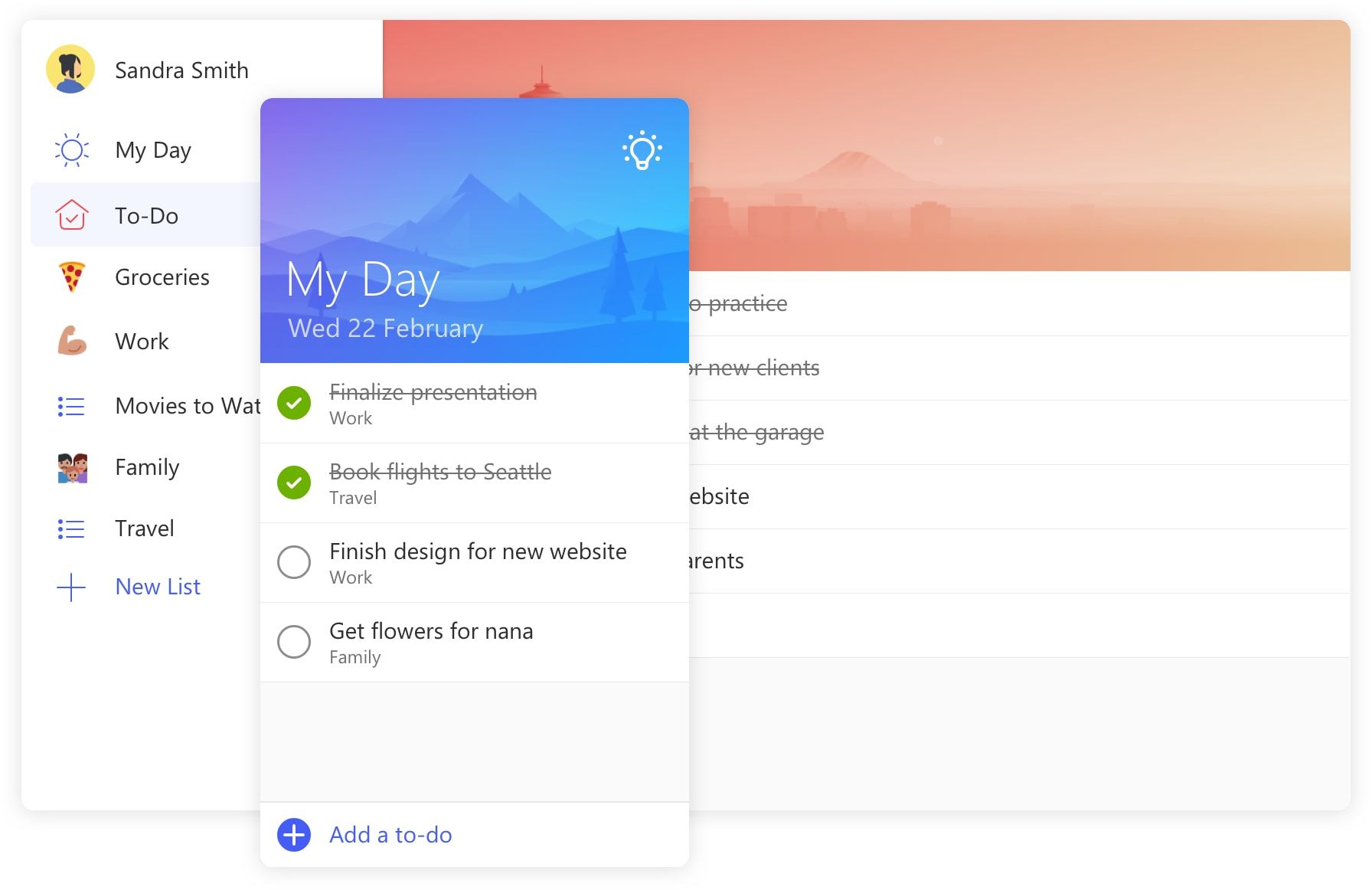 If you know how to use a to-do list, you know how to use Microsoft To-Do. It's a straightforward task app with lists and tasks.
To add tasks quickly, just tap Add a to-do, type in your task, press Enter, and immediately start typing in your next task to quickly fill out your list. Drag tasks to the order you want, or make a new list and drag tasks there to organize them.
To schedule tasks or add notes, double-click on the task to open the sidebar. There, you can choose to schedule the task for today, tomorrow, next week, or a specific date. You can also set it as a recurring task with detailed options for when it's due again. You can also choose to get a reminder when the task is due or any other time. There's also a note field where you can add a plain text note to your task.

The simplicity of the to-do list is appealing to many enterprise employees, but that doesn't mean it can't also be a robust tool for a mobile workforce. The new Microsoft To-Do app, with its ties to the rest of the Office 365 productivity suite and its built-in access to cloud services, is a viable alternative to specialized third-party apps offered by competitors.
Microsoft To-Do is simple, straightforward and focused just on organizing the core tasks you need to do. Above all, it's free: Just go to todo.microsoft.com and log in with your Microsoft account to get started.