Protecting on-premises data is critical for every business and industry. But why do so many organizations forget to protect their cloud data?
We all agree that Microsoft provides a wide array of powerful services within Office 365, but a comprehensive backup of your Office 365 data is not one of them. The fact that your files are backed up inside and outside the datacenters of Microsoft will only protect you against hardware and software failures on Microsofts side. It will not protect you against accidentally deleted files and mails, but Veeam Backup for Microsoft Office 365 will.
Veeam Backup for Microsoft Office 365
As a robust and highly capable Software as a Service (SaaS) platform, Office 365 provides application Availability and uptime to ensure your users never skip a beat, but Veeam backup for Office 365 can protect you against many other common use cases, including: Accidental deletion, retention policy gaps and confusion, internal security threats, external security threats, legal and compliance requirements and managing hybrid email deployments and migrations to Office 365.
Core Benefits of Veeam Backup for Office 365
Veeam Backup for Microsoft Office 365 eliminates the risk of losing access and control over your Office 365 data – so that your data is always hyper-available and protected. It also gives you the power to securely backup Office 365 and:
• Protect your Office 365 data from accidental deletion, security threats and retention policy gaps.
• Ensure total access, control and protection of your Office 365 data.
• Eliminate the risk of losing access to Office 365 email data and ensure Availability for your users.
• Quickly restore individual Office 365 items with industry-leading recovery flexibility.
• Meet legal and compliance requirements with efficient eDiscovery of Office 365 backup archives.

Backup Office 365 and Exchange on-premises to any location
Veeam Backup for Microsoft Office 365 gives you the right tools to ensure you can seamlessly:
• Retrieve Office 365 Exchange Online mailbox items (email, calendar and contacts*) from a cloud-based instance of Office 365 and uniquely backup the data weekly, daily or as often as every five minutes in Microsoft's native format — an archive database based on Extensible Storage Engine (ESE), also known as the Jet Blue database.
• Backup Exchange on-premises utilizing the same APIs as Office 365, reducing the impact to your data center and allowing more frequent backups of your users' email data.
• Store backups in the location of your choice — including on-premises, in a hyperscale public cloud (i.e. Microsoft Azure or Amazon Web Services) or with a local service provider.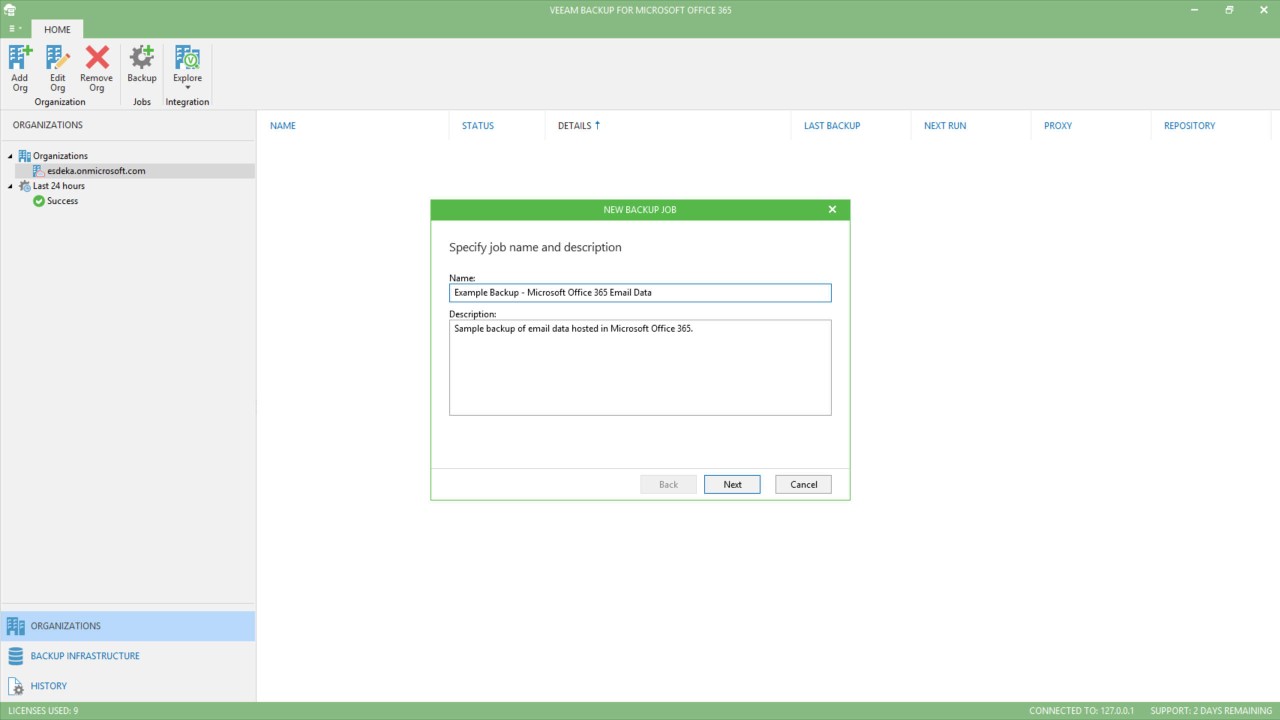 Easily restore Office 365 emails from a Veeam backup
The built-in Veeam Explorer™ for Microsoft Exchange enables:
• Quick search and granular recovery of individual mailbox items residing in a protected and archived copy of your Office 365 data
• Direct restoration of mailbox items to an Office 365 mailbox, an on-premises Exchange mailbox, saved as a file, emailed as an attachment or exported as a PST.
Perform eDiscovery of an Office 365 email archive from a Veeam backup
Veeam enables you to you leverage the familiar, advanced search capabilities and the flexible recovery and export options to perform eDiscovery on Office 365 archives — just as easily as you would with a traditional on-premises data backup.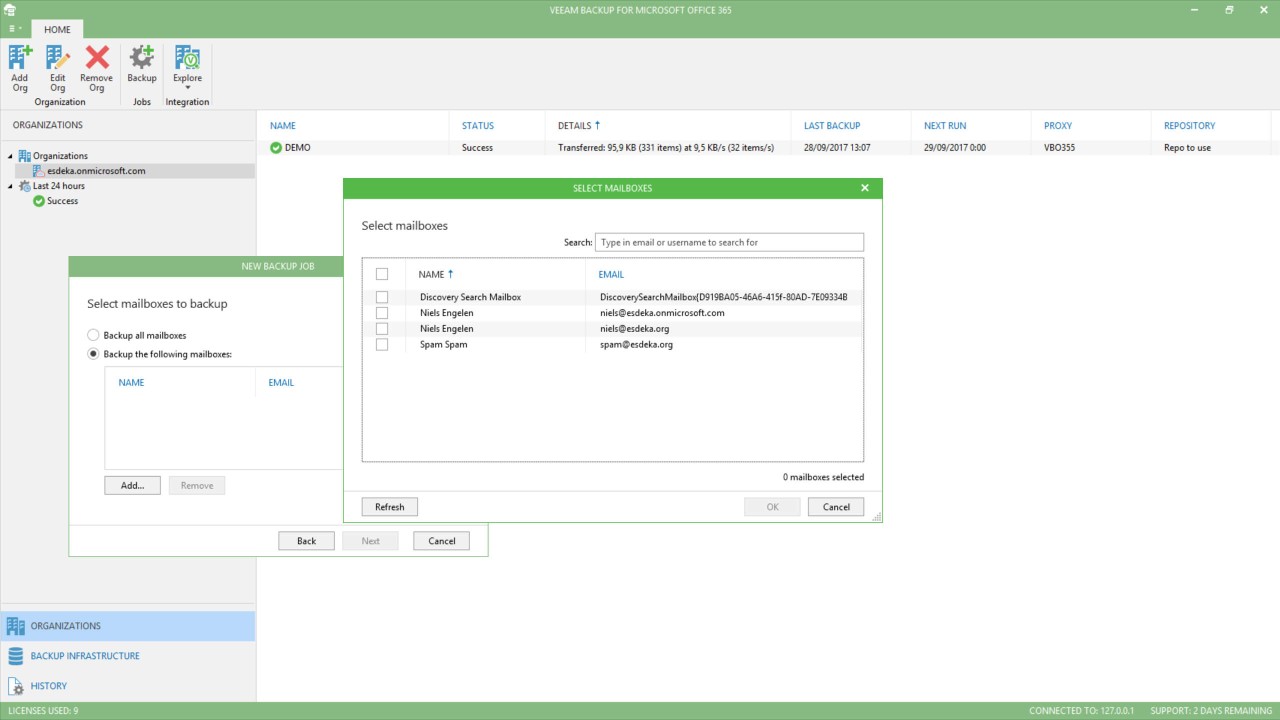 Unified Exchange and Office 365 backup
Ensuring Hyper-Availability of email data requires a solution that can cover both Office 365 and any on-premises Exchange instances that you may have. Veeam Backup for Microsoft 365 allows you to:
• Protect hybrid email deployments
• Migrate mailbox data between Office 365 and on-premises Exchange
• Support application-aware processing of Veeam Backup for Microsoft Office 365 servers with Veeam Backup & Replication™
• Enable creation of consistent backups of Office 365 archives to streamline eDiscovery and mailbox item-level restores
Flexible restore options that meet your compliance needs
Compliance is a big driver for the need to backup Office 365. With Veeam Office 365 backup, you can:
• Store data based on long-term retention policies for regulatory or compliance needs
• Ensure you recover exactly what you need — no more, no less — with granular advanced search and find functionality
As you can see, the real benefit of using Veeam backup for your Office 365 is the peace of mind it gives, knowing that you've opted for a reliable, granular restore for Office 365 emails, calendars and contact items in a few simple clicks.
You can find the original source of this blog here.
Ctelecoms Team