After reading Microsoft's blog written by SharePoint team, Ctelecoms is thrilled to introduce you to Microsoft's NEW, cutting-edge experiences on the SharePoint intranet: The mobile and intelligent intranet!
The new feature, powered by Office Graph, works on boosting your business productivity through combining the benefits of SharePoint Team Sites along with your most important applications and more. Microsoft are also promising further functionalities to further enhance your intranet experience and make it more manageable on the go!
You can watch a demo of intelligent intranet presented by principal group program manager for the SharePoint engineering team, Adam Harmetz in the video below:
Your Intranet in your Pocket!
SharePoint mobile app lets you keep track of all your connections and data through the intranet while enjoying SharePoint functionalities at their full potential. Also powered by Office Graph, the app enables you to reach your most important connections much faster than before!
Sites: By clicking on your "sites tab", you will be directed to your sites where you will be able to keep track of all your site engagement as well as view recent files.
Links: The links tab will show you all sites and portals programmed for everyone in your organization.
People: Through the peoples' tab, you will be able to view all your coworkers and see what tasks they are taking on.
Search: The search icon delivers precise and filtered search results.
Microsoft promise a future update to the SharePoint application that will provide news and general announcements to your mobile!

The following image shows you what the SharePoint mobile app looks like on Windows, iOS and Android: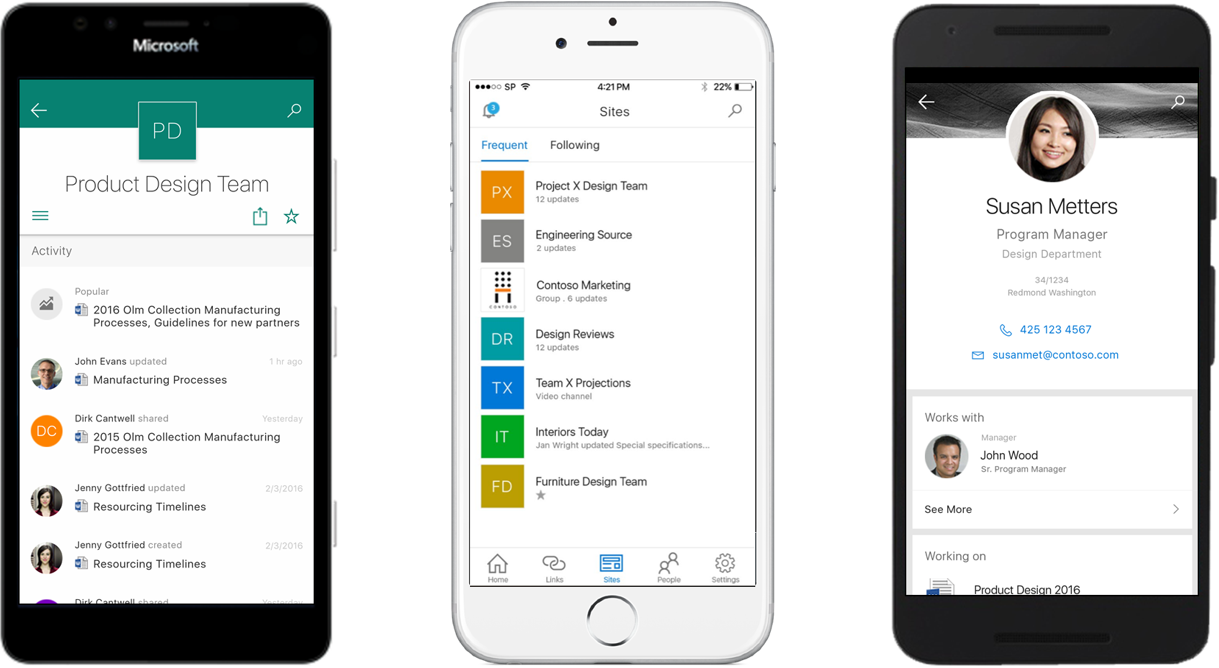 SharePoint home in Office 365
Enjoy this one of a kind user experience by simply clicking on the SharePoint tile to
find and produce sites in double time! You will then be able to view all active and recommended sites and all sites supported by your firm.
You can start your search by entering your query in the search box, once you submit a search, a list of top results will be displayed. With the SharePoint home, you will be able to enjoy a seamless and fast intranet navigation on your device.
Here's a snap shot of SharePoint home, accessed by clicking on the SharePoint tile in the Office app launcher: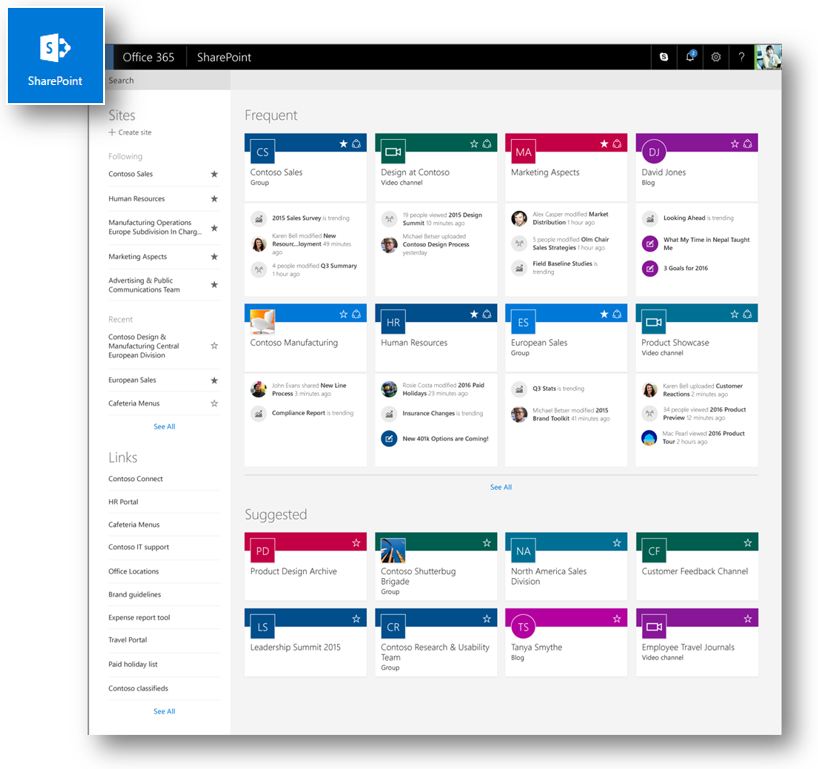 Want to know more about SharePoint home and SharePoint mobile app? Watch video here!
Modern Team Sites
Looking to introduce people to your awesome content? Team sites and Office 365 Groups are the best ways to do just that! There are so many things you can do to showcase your work, simply pin them at the forefront of your page.
Microsoft has now made it much easier and faster to create team sites, and by using Office Groups, you will be able to enjoy all its features! The first image below displays how you can view all your important files through the SharePoint Online team site home page, and the second shows you what the team site will look like once opened with SharePoint mobile-app!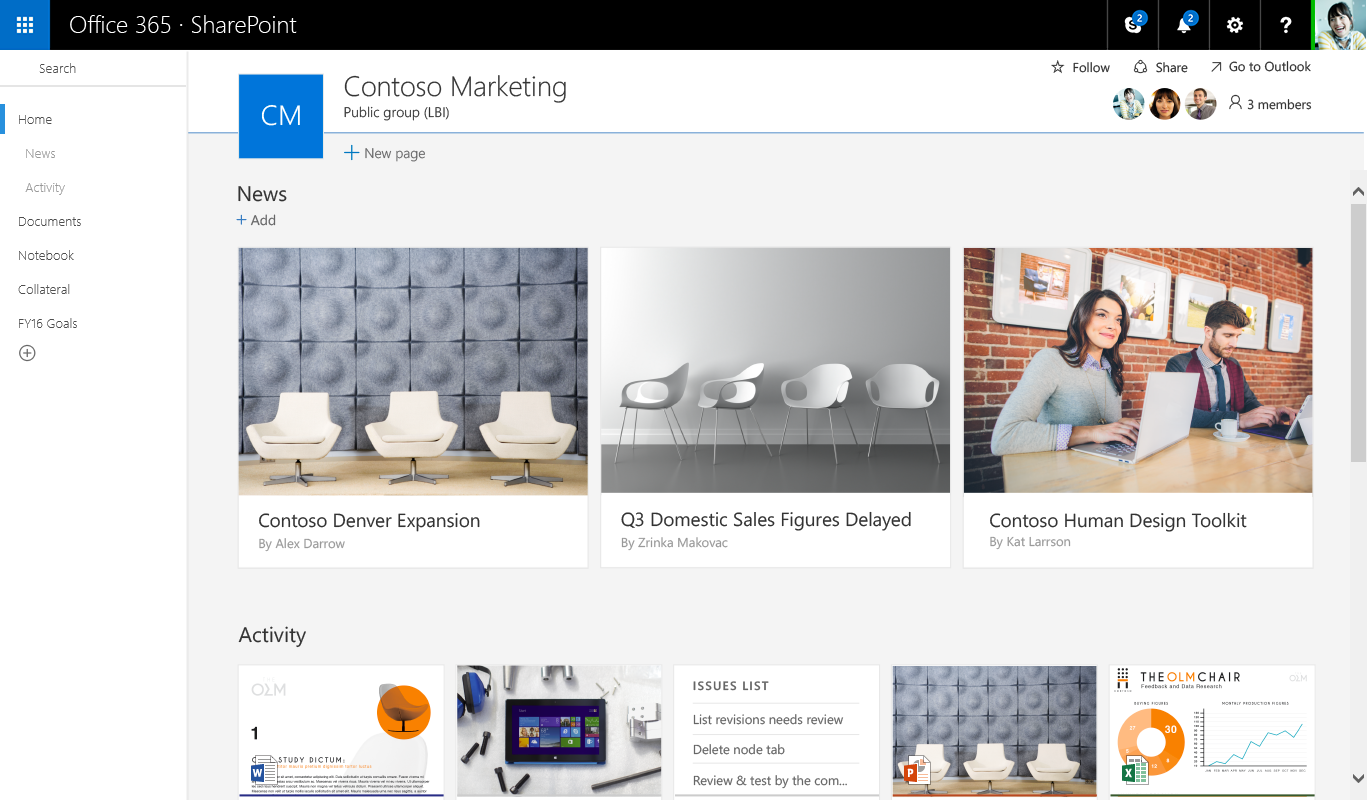 Innovative Document Libraries
The document library will give you a whole new experience, allowing you to showcase and bring together all your files. With this new functionality, you will be able to seamlessly work on all your documents in Office 365 while employing all features in this SharePoint experience!
Pin to top
If you love social media channels, you'll probably have come across a "pin to top" feature once or twice. And Microsoft has deployed the "pin to top" in your document libraries'! You can now pin all your important content as well as videos, at the top of your library for much easier and faster access! And that's not all, Microsoft has added an extra experience to the norm, you can now add a link from outside your document libraries to your list of pinned items!
You can also manage your pinned files by filtering and organizing your columns! Microsoft has also further enhanced the search experience to make it easier for you to enjoy outstanding results!
To import files from your OneDrive, simply click Move to/Copy to transfer your documents to Office 365.
In the picture below, you will see a document displaying two files and a pinned link: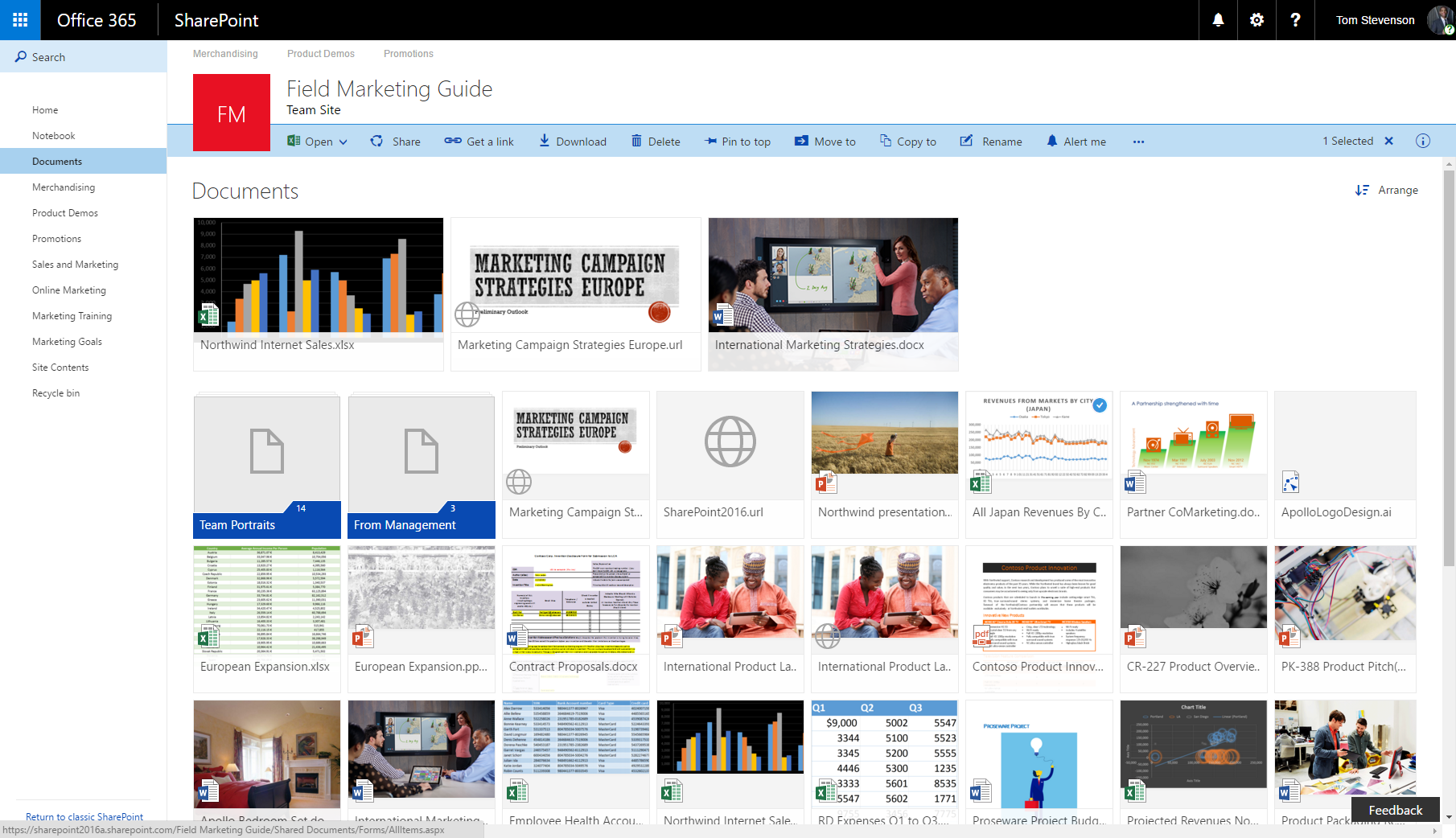 Modern Lists Experience
Microsoft have also enhanced your SharePoint Online Lists; your lists can now be viewed through your SharePoint mobile app to make it a much more responsive experience!
Integration with Microsoft PowerApps and Microsoft Flow
Another Microsoft announcement!
Microsoft announced last week that they are looking to integrate Microsoft PowerApps and Microsoft Flow within SharePoint online document libraries and lists reducing complexity and boosting your work productivity wherever you are! In the image below, you can see how you can add a new flow by simply clicking "Add Flow"!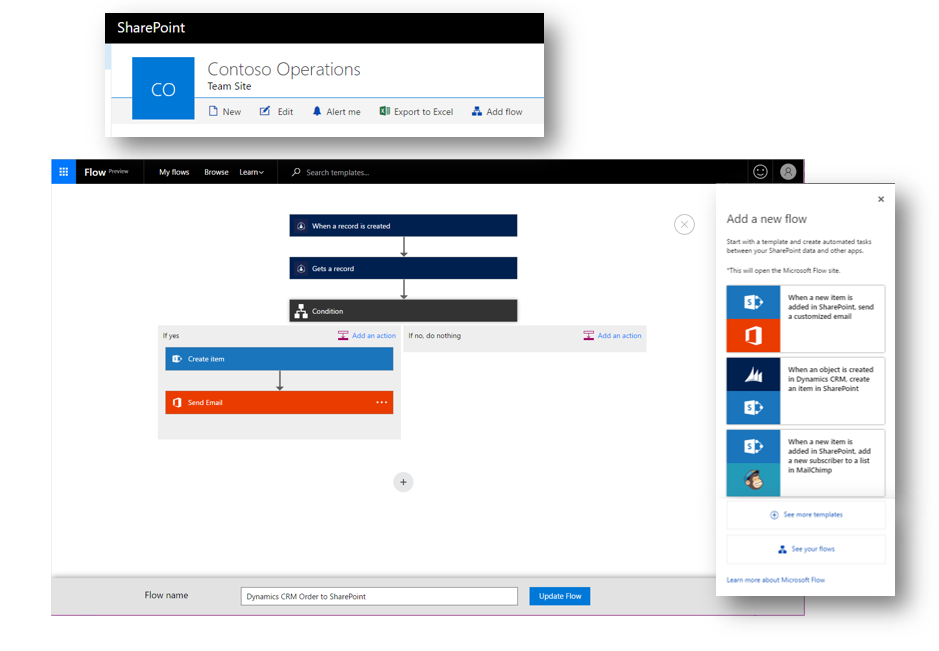 Create fantastic, innovative web pages!
Design professional, beautiful and responsive pages through the mobile and intelligent intranet!
Microsoft has enhanced the experience making it so much easier and much more fun to create extraordinary web pages. The pages you create operate on the web as well as the updated SharePoint app, and are all part of Office Graph, making it simpler for users to find and view them. All team sites can now design and publish vivid reports and pages faster. The image below shows you how to add a new page by simply clicking "Add Page":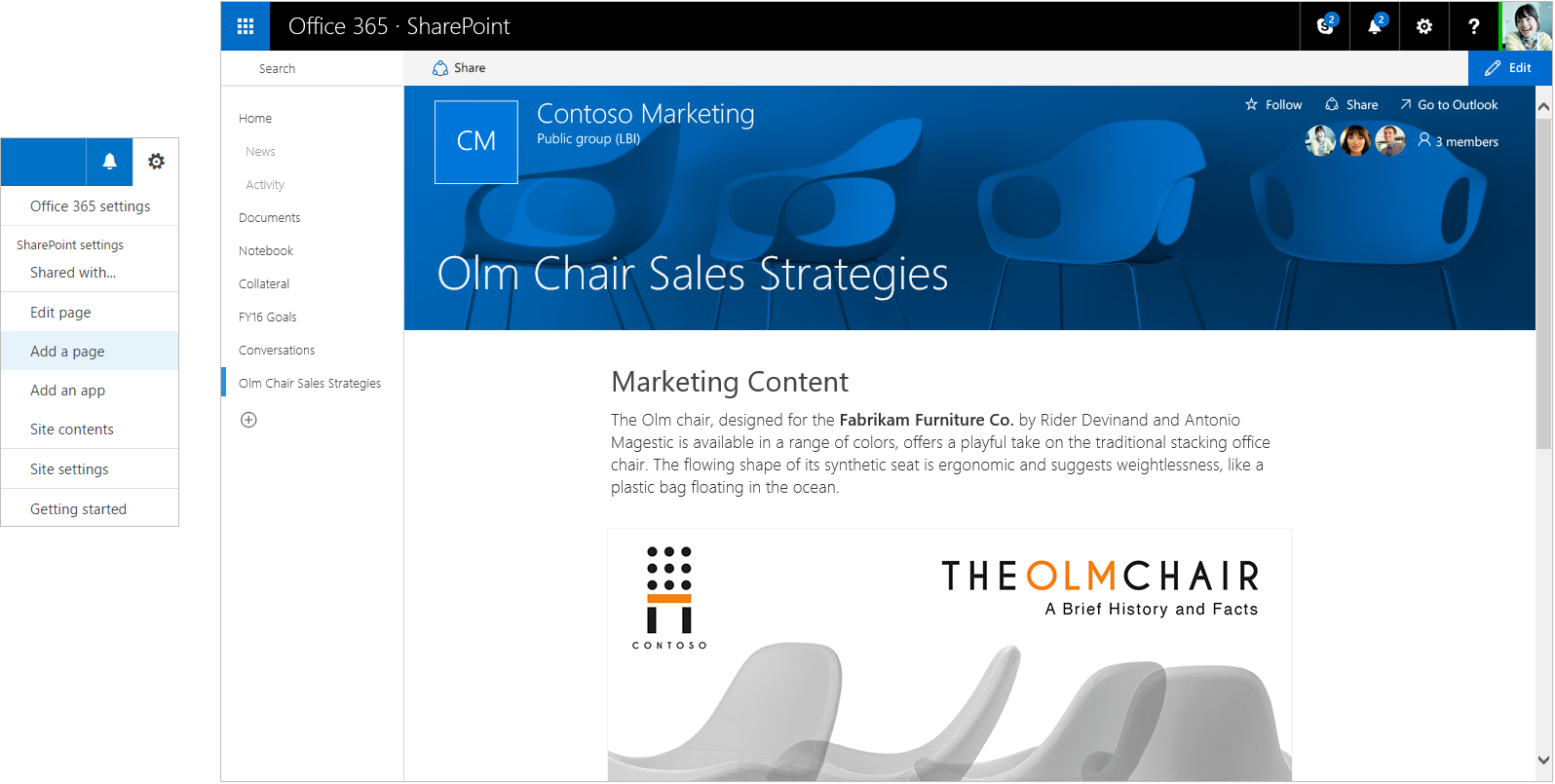 Site activity and insights on the Site Contents page
Ctelecoms are also happy to inform you all on Microsoft's next step in improving the SharePoint Online Site Contents page experience. You will soon be able to see top-viewed content as well as a site map and site pointers! And through deploying fast buttons, you will also be able to enjoy additional site features! In the image below, you can see what site visits and the trending content view look like in the updated Site Content page!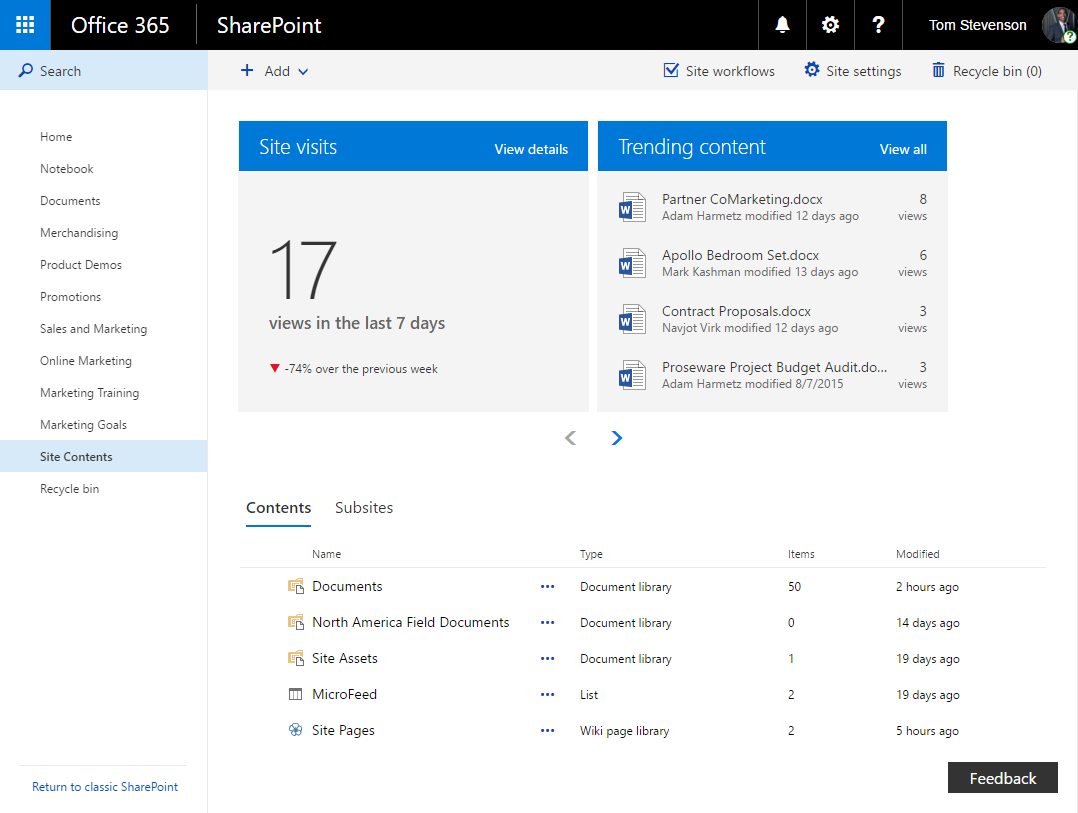 "Roadmap for the mobile and intelligent intranet"
Want a nice overview on what's "coming soon"? Microsoft has provided a roadmap for all the experiences you will see this quarter. Enjoy!
This quarter:
The new document library experience (in flight to First Release tenants).

SharePoint mobile app for iOS.

SharePoint home in Office 365.

Modern List experiences.

Site activity and insights on the Site Contents page.
During 2016:
SharePoint mobile app for Windows and Android.

Integration of SharePoint sites and Office 365 Groups.

Simple, fast site creation.

Modern pages experience.

Team and organizational news and announcements.

PowerApps and Microsoft Flow integration with SharePoint.
What about you?
What do you think about these new features and updates? Have any new ideas? Please feel free to tell us what you think in the comments below, we'd love to hear your thoughts!